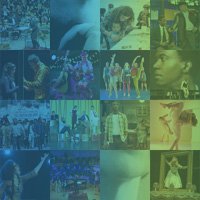 MacArthur today named 14 Chicago arts organizations as recipients of the MacArthur Award for Creative and Effective Institutions. The Award, which recognizes exceptional nonprofit organizations that are engaged in the Foundation's core fields of work and helps ensure their long-term sustainability, provides each organization with $200,000 to $1 million, depending on the size of its budget.
The annual award has been presented since 2006 to organizations across the country and around the world that demonstrate exceptional creativity and effectiveness. This year's recipients are drawn exclusively from Chicago's arts and culture community in order to strengthen the city's vibrant cultural life and underscore the Foundation's commitment to its hometown. Each year, MacArthur supports more than 300 arts and culture groups in Chicago, awarding more than $10 million in grants, mostly through general operating support.
"These superbly imaginative arts organizations, competitively selected, bring diverse new audiences to opera, inject storytelling into dance, create new types of music, add humor to theater classics, and even partner with jazz musicians in Cuba," said MacArthur President Julia Stasch. "Chicago's arts community is vibrant and economically vital to the region. Support for these leading organizations reflects our enduring commitment to Chicago and to its cultural life that enriches us all."
The recipients of the 2016 MacArthur Award for Creative and Effective Institutions are –
Organizations will use this critical support, which is large relative to their budgets, to build cash reserves, develop strategic plans, and upgrade technology and physical infrastructure.
For these Awards, the Foundation does not seek or accept nominations. To qualify, organizations must demonstrate exceptional creativity and effectiveness; have reached a critical or strategic point in their development; show strong leadership and stable financial management; have previously received MacArthur support; and engage in work central to one of MacArthur's core programs.
Since 1978, MacArthur has invested nearly $1.1 billion in Chicago. Grants have supported more than 1,300 organizations and individuals working in arts and culture, community and economic development, housing, education, and other areas.
The MacArthur Foundation supports creative people, effective institutions, and influential networks building a more just, verdant, and peaceful world. MacArthur is placing a few big bets that truly significant progress is possible on some of the world's most pressing social challenges, including over-incarceration, global climate change, nuclear risk, and significantly increasing capital for the social sector. In addition to the MacArthur Fellows Program, the Foundation continues its historic commitments to the role of journalism in a responsible and responsive democracy; the strength and vitality of our headquarters city, Chicago; and generating new knowledge about critical issues.