Financial Overview
In 2014, the Foundation paid out $231.4 million in grants and program-related investments to organizations and individuals in the United States and around the world.
Actual cash paid out varies from year to year depending on payment schedules of larger grants. Since 1978, the Foundation has awarded more than 22,481 grants totalling over $5.7 billion to more than 8,120 creative people and effective institutions committed to addressing some of the most challenging social problems in the United States and around the world. MacArthur's charitable administrative expenses totaled $44.3 million in 2014, about 15.9 percent of total charitable expenses.
0
$50M
$100M
$150M
$200M
$250M
$300M
2014
2013
2012
2011
2010
2009
2008
2007
2006
2005
2004
2003
2002
2001
2000
1999
1998
1997
1996
1995
1994
1993
1992
1991
1990
1989
1988
1987
1986
1985
1984
1983
1982
1981
1980
1979
1978
---
2014 Program Budgets
Program budgets are approved by the Foundation Board of Directors. Working pursuant to these budgets, the Foundation approves grants and makes expenditures during the year. We share these budgets so that you can better understand the Foundation's priorities.
Budget by Program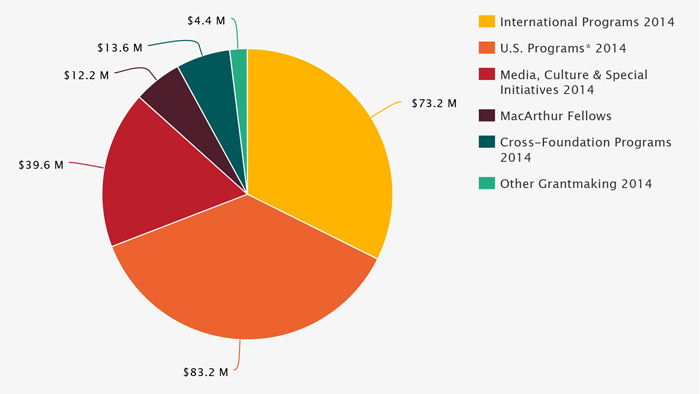 International Programs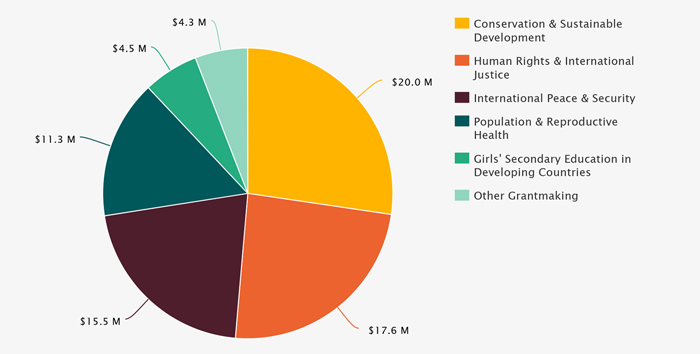 U.S. Programs*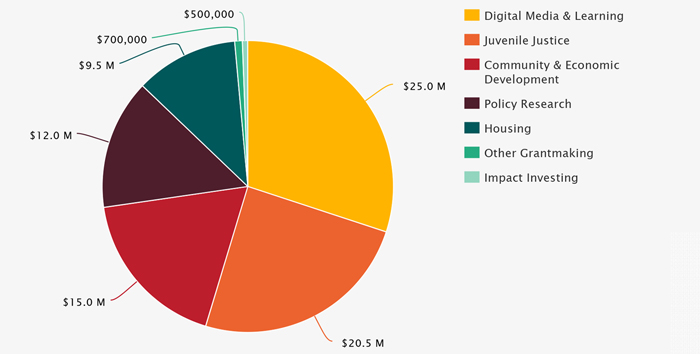 *In addition to grants, U.S. Programs also authorized $10.4 million in program-related investments.
Media, Culture, and Special Initiatives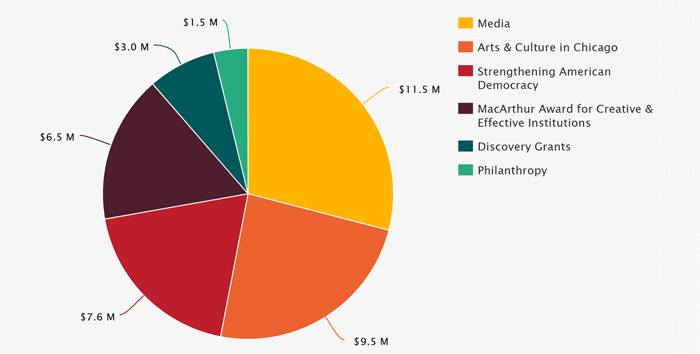 Cross-Foundation Programs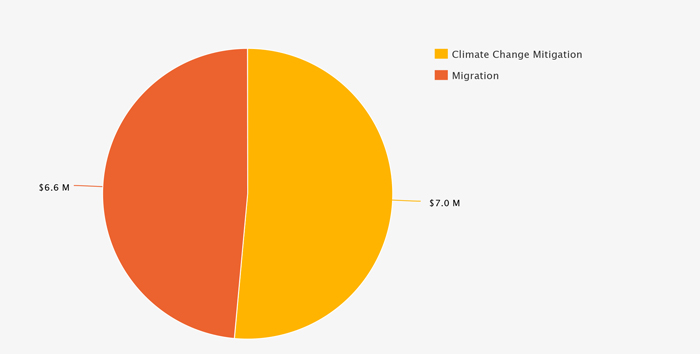 Investment Summary
As of December 31, 2014, MacArthur's assets totaled $6.47 billion. The Foundation's investment portfolio had a return of 6.97 percent in 2014 net of investment management costs.
The Foundation invests for the long term with the objective of earning a real rate of return, net of expenses, sufficient to fund its charitable giving and operations. The underlying principles of MacArthur's investment approach may be summarized as follows:
The Foundation maintains a broadly diversified portfolio with allocation to a variety of asset classes, both public and private.
The broad diversification, combined with rigorous analytical research, is intended to enable the Foundation to manage risk.
The Foundation seeks to achieve strong net returns over time at a cost comparable to other institutions with similar asset allocations.
Total Assets and Rate of Return, 2004–2013
| | | |
| --- | --- | --- |
| 2005 | $5,492,269,240 | 15.47% |
| 2006 | $6,178,196,933 | 18.04% |
| 2007 | $7,052,165,312 | 19.37% |
| 2008 | $5,014,059,259 | -26.97% |
| 2009 | $5,237,796,061 | 12.26% |
| 2010 | $5,737,270,334 | 16.95% |
| 2011 | $5,703,076,554 | 4.55% |
| 2012 | $5,987,438,524 | 10.20% |
| 2013 | $6,323,307,217 | 10.77% |
| 2014 | $6,496,167,429 | 6.97% |
Average rate of return, 2005–2014, 7.85%