Young Chicago Authors is a youth literary arts organization working to cultivate the voices of diverse teen writers through artist-led workshops and student performance opportunities, both inside and outside of schools.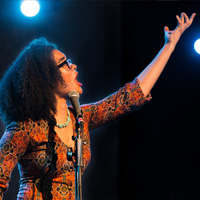 Few resources exist in Chicago for teens serious about creative writing. Young Chicago Authors serves more than 10,000 young people a year building civically engaged and culturally literate youth communities.
Young Chicago Authors facilitates relationships between young people of different cultural and socio-economic backgrounds and provides young artists with the space, mentorship, motivation, and resources they require to produce, share, and publish meaningful works of art.
Its year-round programming is celebrated in the culmination of the month-long poetry festival Louder Than a Bomb, the largest teen poetry slam in the world. The festival has been the subject of documentaries and radio stories, and its model is in high demand nationally and internationally.
Young Chicago Authors will use its $625,000 MacArthur Award to increase its operating reserve and upgrade its technology and equipment.
More Information