About The Chicago Jazz Philharmonic
The Chicago Jazz Philharmonic is a 55-piece orchestra that composes and performs complex works locally, nationally, and internationally.
Its distinctive sound, which combines the rapid, spontaneous, and improvisational rhythms of jazz with classical symphonic elements pushes the boundaries of both art forms.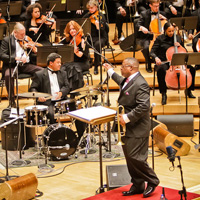 Its programming includes guest performances, performances of original works, and an arts education program of instruction and enrichment for those in kindergarten to college.
Its artistic accomplishments are matched by increasingly sophisticated operating practices. A good example of its savvy as an institution came recently on its trip to Cuba, partially funded by MacArthur's International Connections Fund. Chicago Jazz Philharmonic happened to be in Cuba rehearsing with young Cuban artists when news broke that the United States and Cuba would reestablish a formal relationship after more than 50 years. It was a special moment that the organization captured on film, leading to an appearance on CBS's 60 Minutes. The Jazz Philharmonic then performed a concert with Cuban artists in Chicago, introducing into its repertoire another music style that it plans to explore in future years.
The Chicago Jazz Philharmonic will use its $400,000 MacArthur Award to establish an operating fund; it will use a small portion for strategic planning.
The Chicago Jazz Philharmonic grantee profile ›
More Information