About Links Hall
Links Hall makes possible the work of nearly 750 Chicago artists and arts organizations every year. It is an arts organization that supports performing artists by providing residencies, performance and curation opportunities, professional development and trainings, and financial assistance, such as low-cost rental space and fiscal sponsorships.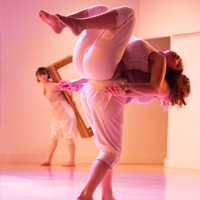 Since 1978, Links Hall has been Chicago's go-to resource for daring, exploratory, and improvisational performance. Its programming fosters independent new work, its network provides artists new peers and mentors, and its community engagement generates public dialogues about the issues of our times.
Links Hall has a growing international reputation as an incubator for original, multidisciplinary performance art. It houses two studio and performance spaces and attracts more than 10,000 people to its performances each year.
The resources and leadership at Links Hall are vitally important to Chicago's dance and performance community. When Links Hall left its original space to create a new collaborative arts venue with music presenter Constellation, its programming got even better, demonstrating its ability to remain robust and continue its growth during transition. Since its move, Links Hall has doubled the number of artists and audience members it serves per year, with only nominal increases in its budget. Its staff is seen as advisors and connectors for emerging and established artists in Chicago.
Links Hall will use its $200,000 MacArthur Award to increase its cash reserve and dedicate a small portion to underwrite critical technology infrastructure and facility upgrades.
More Information