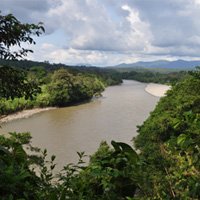 MacArthur today announced 15 grants totaling more than $3.4 million in support of conservation and sustainable development in the northern Tropical Andes. The new grants invest in research, policy, and practice that help conserve natural and productive ecosystems, and secure their benefits for human well-being in the face of growing threats from climate change and development in the region.
"The Andes region is often referred to as the 'global epicenter of biodiversity' and preserving that biodiversity benefits human well-being," said Jorgen Thomsen, the Foundation's Director of Conservation and Sustainable Development. "Our grantees are working to balance the demand for economic development in the region with the need to preserve its wide range of precious resources. We're already seeing effective conservation models coming out of this work that could be applied elsewhere in the world."
The grants, which will support work in Colombia and Ecuador, represent the third package of support in the Tropical Andes. The Foundation announced a $176 million, ten-year commitment to conservation and sustainable development in March 2011, which includes work in the Andes, the Great Lakes of East Central Africa, the Greater Mekong and its headwaters, and coastal marine programs in the Caribbean Sea, Western Indian Ocean, and Western Pacific Ocean.
The grants are as follows:
Altropico will receive $225,000 to strengthen territorial management and government practices in the Mira River bi-national watershed in Ecuador and Colombia.
Conservation International will receive $200,000 to create digital tools and strengthen provincial and municipal planning processes to promote ecosystem conservation in the Ecuador portion of the Mira watershed.
Corporacion Grupo Randi Randi will use a $200,000 grant to consolidate municipal governance structures to encourage improved Mira watershed management through reciprocal agreements between downstream water users and upstream water protectors in Ecuador.
Corporacion Semillas de Agua will use a $200,000 grant to reduce cattle ranching and open-pit gold mining pressures on biodiversity and the degradation of forests and ecosystems in the central Magdalena-Cauca watershed of Colombia.
Fondo Accion will use a $300,000 grant to establish a simplified process that encourages increased use of ecosystem service agreements through a supply and demand exchange market in Colombia.
Mongabay will use a $50,000 grant to support a journalism program that will produce investigative reporting on the social and environmental impacts of development projects financed by Brazil and China in the Western Amazon-Andes region.
The Nature Conservancy will use a $300,000 grant to develop and refine a set of tools and strategies around hydropower development and strengthen whole river basin management for the Magdalena-Cauca Rivers in Colombia.
NatureServe will receive $190,000 to establish two species-level indicators –amphibians and aquatic mammals – to monitor the health of ecosystems and effectiveness of conservation efforts in the Northern Andes.
Pinchot Institute will receive $270,000 to expand work with local communities and a partnership with the Ecuador government in implementing payments for environmental service arrangements and subsidies for native forest preservation and reforestation.
Rare will receive $250,000 to implement reciprocal water agreements between upstream land owners and downstream users of the Magdalena-Cauca watershed of Colombia.
Runa Foundation will use a $325,000 grant to create incentives for sustainable forest management and to strengthen the community resource rights of indigenous Kichwa in the upper Napo watershed in the Ecuadorian Amazon, who are facing increasing oil development pressures.
Wildlife Conservation Society will use a $300,000 grant to incorporate climate-smart conservation strategies into provincial land-use and development plans in the upper Napo watershed of Ecuador.
World Wildlife Fund will receive $300,000 to upgrade planning instruments for freshwater, terrestrial, and coastal marine portions of the Mira bi-national watershed, established community conserved areas, incorporate environmental considerations into oil palm and cattle production, and promote ecosystem service compensation programs.
The Foundation has supported conservation efforts around the world for more than 25 years and was the first major private foundation to adopt biodiversity conservation as a core component of its international grantmaking.
Grantee Profile: Altropico, Conservation International, Corporacion de Gestion y Derecho Ambiental, Corporacion Grupo Randi Randi, Fundacion para la Sobrevivencia del Pueblo Cofan, Mongabay.org, Nature Conservancy, NatureServe, Pinchot Institute for Conservation, RARE, Runa Foundation, Wildlife Conservation Society, World Wildlife Fund