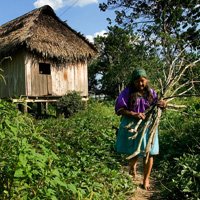 MacArthur named 13 organizations in five countries as recipients of the MacArthur Award for Creative and Effective Institutions. The Award, which recognizes exceptional grantees and helps ensure their long-term sustainability, provides each organization with $500,000 to $1.5 million, depending on the size of its budget.
"From New York to New Delhi, these extraordinary organizations are making a real difference in the lives of people and communities," said MacArthur President Robert Gallucci. "MacArthur recognizes their importance and impact, and we hope our investment will help ensure that they continue to thrive and to increase their reach in the future."
The recipients of the 2013 MacArthur Award for Creative and Effective Institutions are –
American Documentary – Brooklyn, New York ($1 million) produces and broadcasts documentary films on the most important issues of our times that spark reflection, discussion, and civic engagement
Fundacion para la Sobrevivencia del Pueblo Cofan

(Foundation for the Survival of the Cofan People) – Quito, Ecuador ($500,000) empowers indigenous people to protect priority tropical rainforests and their homelands

Children and Family Justice Center at Northwestern University – Chicago, Illinois ($750,000) protects the rights and well-being of young people in the juvenile justice system and advocates for fairer laws and policies
Family Care International

– New York, New York ($1 million) makes pregnancy and childbirth safer for mothers worldwide through research, advocacy, and partnerships

Housing Partnership Network

– Boston, Massachusetts ($1.5 million) enables peer learning and collaboration among more than 100 affordable housing and community development leaders

International Rivers

– Berkeley, California ($750,000) opposes destructive dams in critical conservation regions and offers feasible alternatives to meet energy and water needs

Sin Fronteras

– Mexico City, Mexico ($500,000) protects the human rights of migrants in Mexico;

Socio Legal Information Centre – New Delhi, India ($750,000) provides free legal assistance to protect the rights of the marginalized in India
Southwest Organizing Project

– Chicago, Illinois ($750,000) educates, mobilizes, and empowers communities in Chicago to help overcome foreclosures and violence

The Stimson Center

– Washington, DC ($1 million) builds bipartisan support for pragmatic approaches to world security though analysis and outreach

StoryCorps

– Brooklyn, New York ($1 million) captures, shares, and archives stories of a diverse range of Americans for future generations

The Tobin Project

– Cambridge, Massachusetts ($750,000) links multidisciplinary scholars and policymakers to generate research addressing real-world problems

Ushahidi

– Nairobi, Kenya ($750,000) pioneers free, open source software to collect and map information that advances human rights
The Award is not only recognition for past leadership and success but also an investment in the future. Organizations will use this support to build cash reserves and endowments, develop strategic plans, and upgrade technology and physical infrastructure.
For these Awards, the Foundation does not seek or accept nominations. To qualify, organizations must demonstrate exceptional creativity and effectiveness; have reached a critical or strategic point in their development; show strong leadership and stable financial management; have previously received MacArthur support; and engage in work central to one of MacArthur's core programs.
MacArthur has a long history of building and strengthening institutions – from Human Rights Watch, now the largest U.S.-based human rights organization; to the Center for Responsible Lending that promotes and protects homeownership and family wealth; to Creative Commons, which has changed the way we use and think about copyrights.
Grantee Profile: American Documentary, Inc., Family Care International, Fundacion para la Sobrevivencia del Pueblo Cofan, Housing Partnership Network, International Rivers Network, Local Initiatives Support Corporation, Northwestern University, Children and Family Justice Center, Sin Fronteras I.A.P., Socio Legal Information Centre, Stimson Center, StoryCorps, Tobin Project, Ushahidi