Hundreds of thousands of people migrate to Mexico from across Central America, Africa and other regions, dreaming of opportunity or fleeing violence in their communities. When they arrive, many face harassment in the streets, assaults from organized crime, and abuse at the hands of police and government officials. Sin Fronteras protects, supports, and advocates for the rights of migrants and refugees who come to Mexico in search of a better life.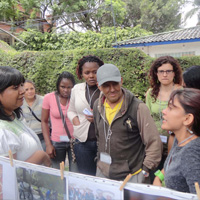 Mexico plays a complex role in the Central America-Mexico-U.S. migration corridor due to its distinctive status as a country of origin, transit, final destination and place of return for migrants. Mexican authorities' militarization of the fight against drug cartels has led to an increase in organized crime violence and involvement in the migration corridor.
Abuses of migrants at the hands of criminals, as well as Mexico's police and security services, are unfortunately the norm rather than the exception. Eleven thousand immigrants to Mexico were kidnapped in 2010, the same year that the bodies of 72 slain migrants were found on an abandoned ranch near the U.S. border.
Sin Fronteras offers the advocacy, legal representation, and direct psychological and social services necessary to assist migrants and protect their individual rights. The organization also works to reform the legal and regulatory systems that allow abuse to continue. By conducting research, Sin Fronteras provides critical data for policy advocacy and technical assistance to governments.
Sin Fronteras lawyers represent migrants in cases that have substantial impact on the Mexican government's policies and laws. Staff help coordinate civil voices that highlight the abuse faced by migrants and the solutions needed to ensure their rights, safety, and dignity. The organization has worked with members of the Central American and Caribbean Parliaments to develop principles for coordinating the management of future migration flows throughout Central America, the Caribbean and Mexico. This work set the foundation for negotiations on a regional agreement that could facilitate labor migration and protect migrant rights in the future.
Sin Fronteras will use its $500,000 MacArthur Award to purchase permanent office space, where it can provide services and conduct advocacy in a safe environment.
More Information