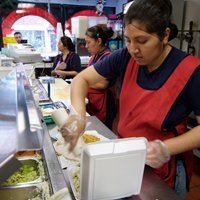 MacArthur today announced $11.6 million in new Chicago investments to help spur economic development in low-income neighborhoods, create opportunities for youth and prevent violence, promote police reform and accountability, and support arts and culture.
Over the past 35 years, the Chicago region has received the largest share of the Foundation's philanthropy: $1.2 billion invested in more than 1,500 organizations and individuals across the city and especially in low-income neighborhoods – more than any other place in the world.
"MacArthur is deeply committed to Chicago," said Foundation President Julia Stasch. "These new awards build on our long local history and our commitment to help address some of the city's most pressing challenges – from spurring economic development and creating jobs in struggling neighborhoods to preventing violence, from promoting police reform and accountability to creating opportunities for youth."
The new funding announced today will help to:
Spur economic development in low-income neighborhoods
Chicago Community Loan Fund / Chicago TREND (Transforming Retail Economics of Neighborhood Development) – $5 million program-related investment (loan) and $1.4 million grant to support neighborhood retail shopping development in low-income and transitioning Chicago communities by making loans to organizations and enterprises identified by Chicago TREND using sophisticated data analysis and financial incentives.

Greater Chatham Initiative – $500,000 to support the Initiative's efforts to improve four low-income, Southside neighborhoods by attracting and growing local businesses to create jobs for residents and attract and retain homeowners.
Kinzie Industrial Development Corporation – $400,000 to support the Chicagoland FOOD project, which promotes growth in the food and beverage industry with a goal of increasing employment in Chicago neighborhoods.
Metropolitan Planning Council – $200,000 in supplemental support to expand the Cost of Segregation study, which is examining the costs of, and making policy recommendations to address, economic and racial segregation in the Chicago region.
Create opportunities for youth and prevent violence
YMCA of Metropolitan Chicago – $500,000 to support Youth Safety and Violence Prevention programs that reduce the effects of adverse childhood experiences, build community protective factors, and support youth exposed to high levels of violence and trauma.
Youth Guidance – $500,000 for general operating support to expand its programs, including the nationally recognized Becoming a Man (BAM) and Working on Womanhood (WOW) school-based counseling programs to help youth overcome life obstacles and improve their academic performance.
Children's Home + Aid Society – $365,000 for mentoring programs for youth at-risk of violence.
Hive Chicago Learning Network – $250,000 to the Mozilla Foundation to provide support to grow Hive Chicago's active community of educators and organizations committed to web and digital literacy and increasing connected learning opportunities for Chicago youth.
Thrive Chicago – $200,000 in general operating support for this citywide, collective impact effort to support Chicago's youth by working with nonprofits, government, and funders to identify current services and gaps, develop coordinated strategies, promote best practices, and test and scale innovative practices.
Digital Youth Network – $125,000 to DePaul University to support Chicago City of Learning, which engages youth-­serving city agencies, non­profits, and cultural institutions across the city in coordinating their out­-of-­school and summer programs for children and youth.
Chicago Fund for Safe and Peaceful Communities – $100,000 to the Chicago Community Foundation to support the Fund, which awarded a total of $500,000 in grants of up to $10,000 each to 70 local nonprofit organizations for their efforts to help keep Chicago neighborhoods safe over Labor Day and into the school year.
Promote police reform and accountability
Invisible Institute – $500,000 for general operating support to support civic activity calling for reform of the Chicago Police Department, including through greater transparency, documentation, and investigative reporting.
Grassroots Alliance for Police Accountability – $300,000 to the Woods Fund of Chicago to support a new coalition that is developing a comprehensive community engagement plan to promote police reform by building public and political support for stronger accountability mechanisms and help build trust in the Chicago Police Department by ensuring the people who will be most directly affected by reform play an active role in shaping it. Previously, along with other local foundations, MacArthur provided funding to help ensure the Police Accountability Task Force had the resources to conduct an independent inquiry and issue an impartial report.
Donda's House – $50,000 to convene a series of community conversations that bring together diverse residents – including victims of gun violence and individuals who have suffered from police abuse – to promote healing in response to violence.
Support local arts and culture
Chicago Latino Theater Alliance – $750,000 to support this new organization that will strengthen the infrastructure for Latino writers and actors in Chicago. The Alliance – created by the National Museum of Mexican Art, Puerto Rican Arts Alliance, and the International Latino Cultural Center – will launch the inaugural Latino Theater Festival in 2017, featuring 12 to 15 new plays performed downtown and in neighborhoods and parks across the city, as well as opportunities for Chicago Public School students to participate in related workshops and educational programs.
Enrich Chicago – $75,000 to the National Museum of Mexican Art to support the Museum's participation in Enrich Chicago, a collaborative of 14 cultural arts organizations and seven foundations, focused on promoting greater racial and cultural equity in the arts in Chicago.
Illinois Humanities – $125,000 to support a planning process for Envisioning Justice, a project using the arts and humanities to engage the community in local and state criminal justice system reform.
Terra Foundation for American Art – $100,000 to support Art Design Chicago, a 2018 initiative to draw attention to Chicago's central role in advancing art and design through exhibits, public programs, publications, and academic conferences.
MLK Memorial Fund – $75,000 to the Chicago Community Foundation to support Chicago's first permanent memorial to Dr. Martin Luther King Jr., which was unveiled in Marquette Park in August.
MacArthur is the largest private funder of arts and culture in the state, providing more than $11 million this year to more than 300 diverse arts and cultural organizations in the Chicago region, including theaters, dance groups, music organizations, visual art programs, film centers, museums, and libraries.
At the end of each year, in a competitive process, a diverse group of MacArthur staff members nominate and select two local organizations for special holiday award grants of $50,000 each. This year's recipients are:
My Block My Hood My City takes teenagers from low-income neighborhoods on educational explorations that provide them with a first-hand look into different cultures, careers, people, and businesses. Its mission is to boost educational attainment, break down the barriers of segregation, and counteract poverty and isolation through structured discovery. The organization will use its MacArthur grant to expand programs and services to Harper and Paul Robeson High Schools.
Chicago Youth Boxing Club offers three interconnected programs that support youth and community needs in Little Village and North Lawndale. These programs provide access to health education and green spaces; access to safe spaces for recreational purposes and social emotional services; and academic and college preparation support. The organization will use its MacArthur grant to expand its student academic support center and further develop the parent club to encourage greater parental involvement.
An award also was made for:
Nonprofit Impact Awareness Fund – $50,000 to the Chicago Community Trust to support the Fund, which educates state policymakers about the effects of the state budget impasse and the resulting dissolution of services on the economy and people of Illinois.
This year, MacArthur's Chicago Commitment team sought input and advice across the city as it considered new opportunities for local grantmaking, support, and engagement. Contributors to these discussions have included representatives of organizations serving Chicago youth, programs helping individuals reenter their communities after time in custody, and groups providing human services. The discussions have also included community activists, developers working to enhance quality of life and expand opportunity in low-income neighborhoods, local foundation representatives, researchers, and leaders of arts and cultural organizations. Information about programs and awards reflecting this input will be available in the coming months.
Grantee Profile: Chicago Community Foundation, Chicago Community Loan Fund, DePaul University, Illinois Humanities Council, Invisible Institute, Kinzie Industrial Development Corporation, Metropolitan Planning Council, Mozilla Foundation, National Museum of Mexican Art, Terra Museum of American Art, Thrive Chicago, Woods Fund of Chicago, YMCA of Metropolitan Chicago, Youth Guidance