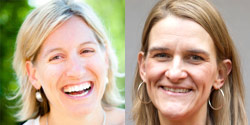 One of the best ways to gain insight about an organization's strengths, capacities, and partnerships is by conducting site visits. At MacArthur, program officers tend to arrange site visits with both prospective and current grantees. For 100&Change, we felt it was particularly critical to visit organizations working outside of U.S. borders to clearly understand the context in which the work may ultimately take place.
We ventured abroad with several goals in mind. We wanted to:
Learn about the scope of the problem and the solution on the ground
Understand how semi-finalist organizations partnered with various organizations in-country to leverage both strengths and weaknesses
Set a tone of partnership with 100&Change semi-finalists
Site visits give us an opportunity to see the work up close and get a feel for the complexity of the challenges an organization is trying to solve. The days are often long and packed with presentations, question and answer sessions with staff and stakeholders, and visits to local facilities, ministries, and communities. The ultimate goal of any program officer, post-site visit, is to become the in-house "expert" on the project in order to answer granular questions from colleagues who are interested in learning more about the inner workings of a program.
What Did We Learn?
All 100&Change semi-finalists are working with a set of partners who are critical to the success of the team's proposed intervention. Reading about a partnership on paper can make it difficult to understand the level of buy-in and often does not illuminate the dynamic ways in which partnerships operate. Yet, these same partnerships can often make or break the success of an organization achieving the impact it desires.
The following examples provide a sampling of key learnings from selected international visits, which also included Harvest Plus, Himalayan Cataract Project, and Sesame Workshop:
During our site visit with Catholic Relief Services (CRS) in Guatemala, we engaged with a variety of community members and learned there is a wide array of individuals who are committed to the de-institutionalization of children in Guatemala and advancing the human rights of children globally. We witnessed the credibility of CRS on the ground, and its unique ability to convene interested parties, such as the Catholic church, Episcopal church organizations, the Secretariat for Social Wellbeing, and the National Adoption Council. By interacting at a local level with the people doing the work and those who benefit from it, we are better able to articulate how CRS intends to change the way society cares for children in orphanages, understand its potential impacts and challenges, and the strengths each partner organization brings to the project.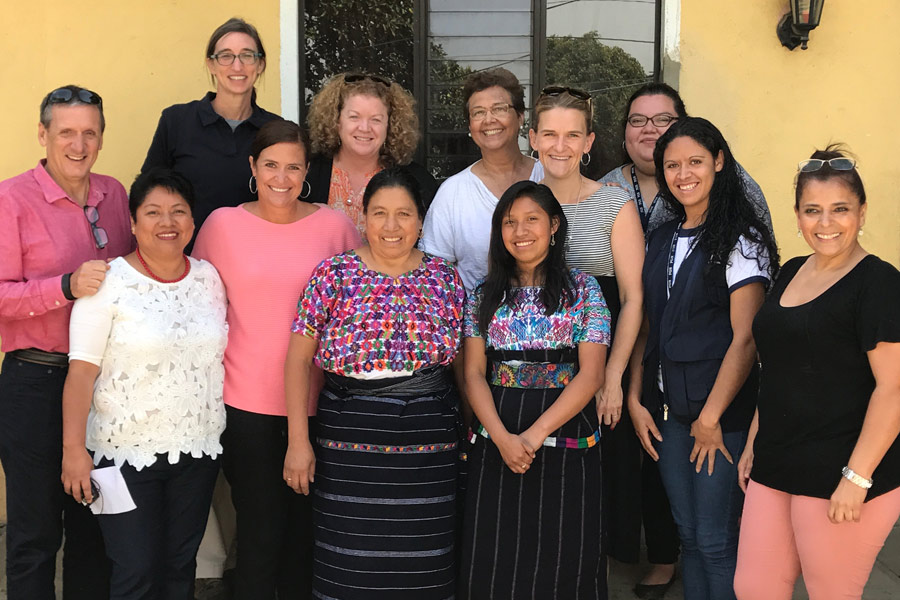 Photo: Catholic Relief Services Guatemala team visits with family that reintegrated a child back into their home from institutional care.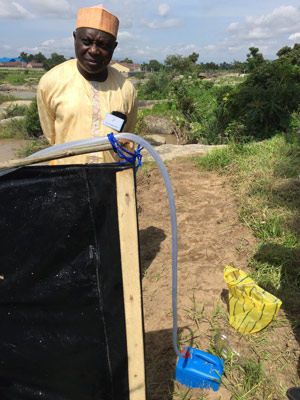 While visiting with The Carter Center in Nigeria we focused on key components of the Center's community volunteer model and its ability to be used as a medical intervention. Observing the Center's volunteer model was critical to our understanding of how the team proposed to solve the challenge of river blindness in Nigeria. We met volunteers, community and ministry partners who walked us through the process of medication distribution and community demand for river blindness elimination. By visiting communities affected by this disease, and meeting volunteers who have distributed a variety of medications to their fellow community members for the last 15 years, we saw the level of commitment and partnership in action that will help to make this endeavor successful.
Photo: Dr. Miri, Carter Center Country Representative, Nigeria shows MacArthur staff how black flies are captured to identify infection rate in fly population.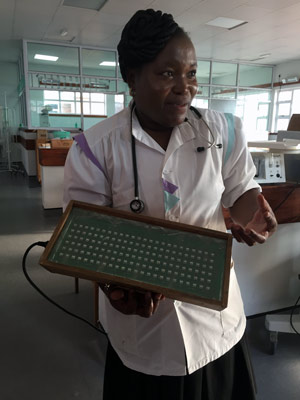 Traveling with Rice University's NEST 360° team to local hospitals provided a clear picture of the unmet needs to support premature and newborn health. During our visit we were we able to see firsthand the progress made in newborn care wards in the last several years, including the impact of Rice's engineering partnership with University of Malawi The Polytechnic. Polytechnic engineering students work directly with hospital faculty to design or redesign medical equipment to be more robust, low cost, and where possible, manufactured locally. Using a design-centered process, students analyze needs and design devices that meet the demands of neonatal professionals.
Photo: Dr. Queen Dube, Co-Principal Investigator for Nest 360, shows off phototherapy light that was locally designed and produced by biomedical engineering students.
Site visits help us establish authentic working relationships with grantees and give us a better appreciation of the complexities associated with any large-scale intervention. These experiences allow us to talk definitively about the strength of the organization, the model it employs, and what excites us about the organization's work. This, in turn, makes us more effective at helping to connect organizations with other donors, NGOs, and government funding that can often draw additional attention to work that is both inspiring and grounded in achieving impact. The value of site visits to our grantmaking is immeasurable.