Public confidence in government is at record lows – due in part to a perception that the political system is distorted by the large amounts of money spent on campaigns. Money influences how elections are conducted, who wins elections, and often how elected officials set their priorities once in office.
The Campaign Legal Center is a nonprofit organization that represents the public interest in reducing the influence of money in the political system, strengthening voting rights, and regulating lobbying. Its work in the courts and before regulatory agencies and Congress strengthens the institutions and practice of American democracy.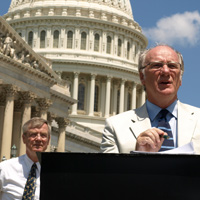 Two prominent experienced lawyers – one Republican and one Democrat – lead the Campaign Legal Center and bring deep, nonpartisan legal expertise to questions of money in politics and voting rights. The small, highly influential organization seeks to expand the disclosure of campaign contributions and public financing programs at the state and local levels to make fundraising less necessary for candidates running for elected office.
The Legal Center monitors and files comments before a variety of federal agencies and litigates when they fail to uphold existing laws related to campaign spending and lobbying. It also trains attorneys to challenge state laws and practices that unfairly prevent eligible citizens from voting, changes that are expected to increase in the wake of the Supreme Court's decision striking down a key provision of the Voting Rights Act.
The Campaign Legal Center has become a leader in public education about campaign finance, elections, political communications, and government ethics – often through innovative media engagement on these topics. It may be best known to the public for Campaign Legal Center President Trevor Potter's role in providing legal advice to political satirist Stephen Colbert. With Potter's assistance, The Colbert Report host established a Super PAC and related 501(c)(4) organizations that helped educate the public about secret money in campaigns and non-enforcement of existing laws.
The Campaign Legal Center will use its $750,000 MacArthur Award for Creative and Effective Institutions to build up its reserve fund and redesign its website.