About John D. & Catherine T. MacArthur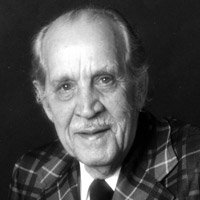 John Donald MacArthur (1897-1978) was one of the three wealthiest men in America at the time of his death, and was sole owner of the nation's largest privately held insurance company.
One of seven children, Mr. MacArthur was born in an impoverished coal-producing area of eastern Pennsylvania. His three brothers who survived childhood all achieved success in their fields: Alfred in insurance, Telfer in publishing, and Charles as a newsman, playwright, and Hollywood screen writer. John held several jobs, including stints as a newspaper reporter, as an insurance salesman in his brother's company, and in three unsuccessful business ventures, before turning to insurance as his life's work.
In 1928, at the age of 30, Mr. MacArthur bought the Marquette Life Insurance Company, and in 1935, he borrowed $2,500 to acquire the financially impaired Bankers Life and Casualty Company of Chicago. Five years later, Bankers had more than $1 million of assets; by 1977, they had surpassed $1 billion. At his death, Mr. MacArthur's insurance companies had more than 3 million policyholders, with $5.5 billion of insurance in force, and a sales staff of more than 5,000 agents and brokers.
In the 1960's, Mr. MacArthur's attention turned to real estate and development. He conducted his business at a table in the coffee shop of the Colonnades Beach Hotel, in Palm Beach Shores, Florida. He owned the hotel, and he and his wife lived in a modest apartment overlooking a parking lot.
At one time or another, Mr. MacArthur's holdings included 100,000 acres of land in Florida, primarily in the Palm Beach and Sarasota areas; several development companies and shopping centers; paper and pulp companies; 19 commercial, office, and apartment buildings in New York City; several publishing enterprises; hotels; radio and television stations; banks and 12 insurance companies.
For more information about the life of John D. MacArthur read an excerpt from the book John D. MacArthur: The Man and His Legacy.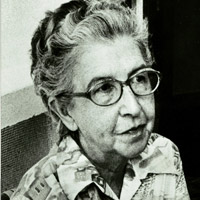 Catherine T. MacArthur (1908-1981) was one of nine children born to Irish immigrants who had settled on the South Side of Chicago. Her father was active in Democratic politics in the city, and served in appointive posts in both state and local government. At various times, he also owned and operated several retail stores.
In the beginning, while John ran the business, Catherine kept the books. She remained intimately involved in her husband's business throughout their lives. When John purchased Bankers, Catherine created the business procedures which would be used until tremendous growth finally made them obsolete. She appears throughout the records of the various companies almost anonymously—under her maiden name, C.T. Hyland—in the position of corporate secretary, director, or both.
John D. MacArthur died January 6, 1978. Catherine T. MacArthur died December 15, 1981.