OVERVIEW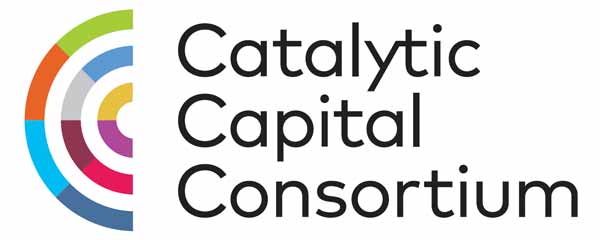 Catalytic capital—investment capital that is patient, risk-tolerant, concessionary, and flexible—is an essential tool to support impact-driven enterprises and organizations that lack access to capital on suitable terms through the conventional marketplace. The aim of catalytic capital is to unlock impact and additional investment that would not otherwise be possible, strengthening communities, expanding opportunity and economic growth, and fueling innovation that advances the well-being of people and the planet, while laying the groundwork for mainstream investors to participate in transformative investments.
To make substantial progress toward a more just, inclusive, and resilient world, we need more catalytic capital to flow. The Catalytic Capital Consortium, or C3, aims to demonstrate the power of this form of investment to extend and deepen the reach of the impact investing field, helping to address the annual funding shortfall that the Organisation for Economic Co-operation and Development (OECD) estimates at $3.7 trillion that is hindering the world from reaching the UN Sustainable Development Goals. The initiative is helping a select group of outstanding, diverse funds address some of the world's most pressing challenges, while also building knowledge, awareness, and use of catalytic capital globally.
To implement the C3 initiative, we selected a set of funds and organizations to receive impact investments totaling over $100 million. Collectively, this portfolio is intended to showcase powerful examples of catalytic capital across diverse sectors and geographies. It is designed to reduce risk, build track records, and increase the scale of promising fund managers. These investments to advance the C3 initiative set the stage for other investors—both impact-oriented and conventional—to participate and fuel additional growth. The Rockefeller Foundation and Omidyar Network have joined MacArthur as C3 Strategic Partners, each providing a portion of the initiative's pooled grant funding. The investments related to C3 are funded solely by MacArthur.
FIELD PARTNERSHIPS
As part of the initiative, we are making investments totaling over $100 million that demonstrate a powerful use of catalytic capital across diverse sectors and geographies. As collaboration is essential to the successful use of catalytic capital, we use the term "field partnership" to describe the efforts that we support with our investments. Our current field partnerships include:
GRANTMAKING
Collectively, the C3 Strategic Partners, working through a project managed by New Venture Fund, have provided $10 million in grants to fuel learning and market development related to catalytic capital. As a first step, the C3 Grantmaking program has supported work to equip the investor community with the knowledge and tools required to deploy greater and more effective investments of catalytic capital. This has involved efforts to build and advance knowledge about catalytic capital, as well as to engage and work closely with practitioners.
Based on research and analysis of market needs, the C3 grantmaking program has funded work in three primary categories:
Strengthening the Evidence Base
---
The C3 Grantmaking program has funded organizations that are building knowledge about why and where catalytic capital is needed, what it looks like, who has been involved, how it has been deployed, and what outcomes have been the result, drawing on current and historical experience from around the world. We believe that this evidence base will serve as an important foundation on which others can build.
Advancing Practice
---
We support engagement and collective learning with leading catalytic capital providers to identify and share current best practices. Our goal is to help practitioners solve technical or practical challenges with guides, convenings, and other activities to inform and support effective deployment of catalytic capital.
Fostering Solutions and Infrastructure
---
To spur the use of catalytic capital and help address barriers that impede transactions, we are supporting projects that make catalytic capital transactions faster, more efficient, and more effective.
As a complement to these workstreams, C3 is working with leading impact investing networks to engage investor audiences and amplify learnings.
Measurement & Evaluation
The measurement and evaluation of the Catalytic Capital Consortium initiative includes questions that test our conceptual framework and underlying assumptions, assess our activities, and measure the extent to which we have met our intended outcomes. From measurement and evaluation, we expect to learn the extent to which our strategy and investments contribute to increase the knowledge, awareness, and use of catalytic capital.
Evaluations will be published as they are completed.
About Catalytic Capital
Catalytic capital is defined as debt, equity, guarantees, and other investments that accept disproportionate risk and/or concessionary returns relative to a conventional investment in order to generate positive impact and/or enable third-party investment that otherwise would not be possible.
It is an essential tool to bridge capital gaps and achieve breadth and depth of impact, while complementing conventional investing. Catalytic capital delivers impact and unlocks conventional investment in several ways. It can:
help prove new and innovative products and business models;
demonstrate the financial viability of high-need geographies and populations;
establish a track record for new and diverse managers; and
grow small-scale efforts, so they can attract conventional investment.
Catalytic capital can take the form of debt, equity, or guarantees.
ADDITIONAL RESOURCES
JOIN THE COMMUNITY
Sign up for periodic updates ›
We encourage investors, entrepreneurs, advisors, researchers, and others to join us in expanding catalytic capital investment and learning.
We encourage you to contact us to:
Share your experiences with catalytic capital, including how you have invested or benefited from catalytic capital and lessons learned;
Ask questions and propose research topics related to catalytic capital;
Request information on how catalytic capital is being used today and where more is needed.