Back to Local News
Local News
Our Goal
Working to support civic engagement, government accountability, and community cohesion by enhancing the availability, quality, and diversity of local news and civic information.
Local News grants are made by invitation only.
Among the many challenges facing American democracy, from low voter turnout and declining civic engagement to increasing partisanship and disagreement on facts and science, one thing is inextricably connected to these and other problems: the steady disappearance of local news.
One-fifth of Americans live in news deserts and tens of millions more live in communities at risk of losing their last reliable local news resource.
Since 2005, the United States has lost more than one-fourth of its newspapers and is on track to lose one-third by 2025, and the news industry has lost 30,000 jobs since 2008. This problem is particularly urgent in the South, Southeast, and the middle of the country and in communities where the poverty rate is higher than the national average and the median income is lower than the national average, making the lack of access to fact-based journalism and reliable information yet another indicator of growing income inequality.
Moreover, the news media has never done an adequate job of representing or uplifting the voices of underrepresented groups inside their newsrooms nor in their coverage. Lack of trust in the media is and has been a longstanding issue for historically marginalized communities, especially for people of color, people with disabilities, and the LGBTQ+ community. One contributing factor may be that newsrooms have not reflected the diversity of the American population.
Meanwhile, journalism has never been a philanthropic imperative, in the same way that education and health care have been, and criminal justice reform and climate change have now become. Over the past 15 years, there has been a steady growth in journalism funding, but overall giving has not kept pace with the seriousness of the problem. During that same period, a handful of foundations have supported innovations and experiments in journalism, and that work has yielded good results, producing models, approaches, and interventions that are proven and ready to scale.
The journalism field has become increasingly self-aware and begun to make progress toward addressing the economic, structural, technological, and cultural challenges that have contributed to its decline. Today, there are more entrepreneurial and diverse leaders leading newsrooms, using smarter tools, and employing better systems to support audience engagement and revenue generation. There is greater likelihood of editorial collaborations, and there are exciting policy ideas that have gained bipartisan support. A local news renaissance is in sight if we can help accelerate the transformation underway.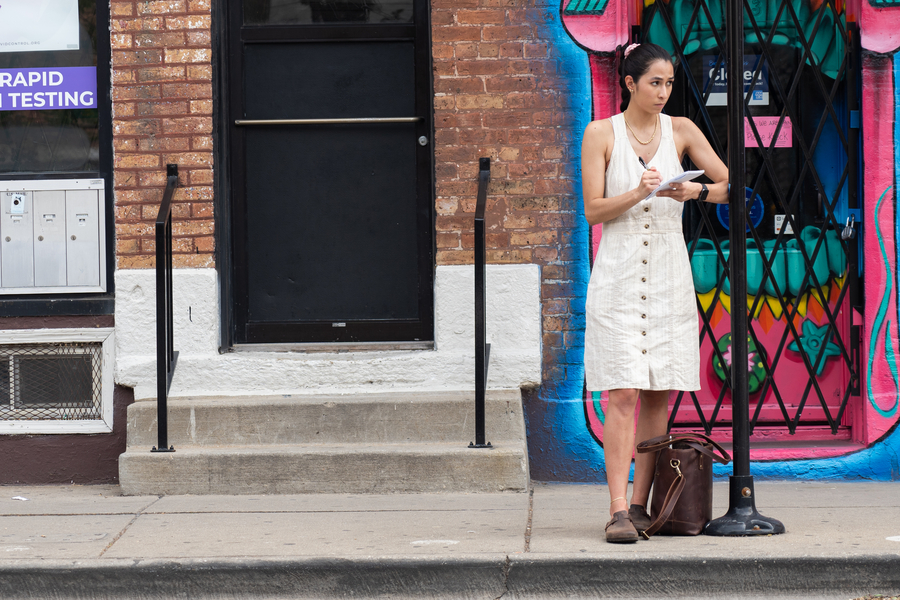 A Block Club Chicago reporter stands on a Chicago street taking notes. Photo courtesy of Alex Garcia/Block Club Chicago.
The MacArthur Foundation is leading a collaborative Big Bet on Local News called Press Forward. Press Forward invites national, regional, local, and issue-based funders to join a coalition to dramatically strengthen and expand local news in America. There are three modes of giving within Press Forward. MacArthur participates in all three:
National Pooled Fund
---
MacArthur has made a significant contribution to the national pooled fund, housed at The Miami Foundation, and is working with other pooled fund donors to design a grantmaking strategy that will support bold ideas, proven solutions, and centers of excellence in local journalism.
Aligned Grantmaking
---
MacArthur is participating in aligned grantmaking by supporting organizations and projects recommended to us by other Press Forward partners and by introducing and recommending organizations and projects we support to funders. The organizations and projects will adhere to one of the four investment priorities outlined by the inaugural Press Forward partners:
Strengthen local newsrooms that have the trust of local communities.
Accelerate the enabling environment for news production and dissemination.
Close longstanding inequalities in journalism coverage and practice.
Advance public policies that expand access to local news and civic information.
Local Funds
---
MacArthur is a major contributor to the Press Forward Chicago fund at the Chicago Community Trust and provided strategic and Staff support for design of the Chicago fund. MacArthur will continue to play a major role in the implementation of the Chicago fund, along with other donors to the fund. Learn more about Press Forward Chicago.
MacArthur will also provide limited seed funding for Press Forward local funds that are started in Illinois and in the Midwest.
The Local News Program has engaged an Evaluation and Learning Partner to assist us in refining the program's grantmaking strategy, goals, and expected outcomes. We will provide more details as this work progresses.
Overall, the program is working on three fronts:
Changes to Philanthropy
More funders supporting local news
More dollars supporting local news
Changes to the Journalism Field
More revenue sources for local news
More shared services and lowered costs for newsrooms
More diversity and equitable practices inside newsrooms
More representative and accurate coverage of diverse communities
More public policies that support local news
More collaboration across newsrooms
Changes in Communities
More informed communities
More civically engaged communities
More local community cohesion
The Local News Program is guided by the same four overarching funding priorities as Press Forward. Through this program, we aim to:
Strengthen local newsrooms that have the trust of local communities.
Accelerate the enabling environment for news production and dissemination.
Close longstanding inequalities in journalism coverage and practice.
Advance public policies that expand access to local news and civic information.
Evaluation of our work is a critical tool for informing our decision making, leading to better results and more effective stewardship of resources. We develop customized evaluation designs for each of our programs based on the context, problem, opportunity, and approach to the work. Evaluation is not a one-time event. It is an ongoing process of collecting feedback and using that information to support our grantees and adjust our strategy.
The Local News Program was approved by the MacArthur Board in June 2023. A full strategy statement and details will be available in early 2024.
Findings and analyses from evaluation activities are posted publicly as they become available.