The Problem
The Syrian refugee crisis is the defining humanitarian issue of our time. It challenges our morals, imagination, leadership, and global stability. Failing to act can cast a long shadow: a lost generation of children whose lives are forever defined by their experience of war. Few Syrian children have opportunities to learn and play; many are neglected; some have been exposed to extreme violence. They are at risk of "toxic stress," a biological response to prolonged and severe adversity that disrupts a child's brain development. As adults, they may suffer poor health and struggle to find employment and rebuild their society.
Yet the story of these children's lives is still being written. Research shows that nurturing care and learning can reverse the effects of toxic stress, and skills developed in early childhood last a lifetime.
Key Facts
Around the world 6.5 million people are fleeing war and persecution, more than at any time since World War II. Half of those displaced are children.
The average refugee family is displaced for 10 years.
Less than two percent of the global humanitarian aid budget goes to education, and only a sliver of all education aid goes to early childhood education.
Sesame Street reaches children in 160 countries, making it one of the largest educators in the world. The International Rescue Committee provides services to over 26 million people in 40 countries.
The Solution
Sesame Workshop and the International Rescue Committee will help heal the scars of war and cultivate the full potential of an entire generation. Delivered through mass media and direct services, our program will use proven techniques to measurably transform children's learning and social-emotional skills and mitigate the effects of toxic stress. Through extensive research, we have developed a solution that is intense enough to be life-changing but cost-effective enough to be scalable.
The solution has three components:
Mass Media: a locally-produced television program, broadcast and made available on digital platforms, will reach 9.4 million children in Iraq, Jordan, Lebanon, and Syria, with engaging characters with whom children can learn and relate;
Home: a caregiving program will be delivered through home visits and mobile messages; and
Center: an early learning program will be delivered in community and NGO centers and government preschools, providing teachers with digital and print lesson plans and educational content. The Home and Center components will marshal frontline service professionals to serve 1.5 million of the most vulnerable children.
Our Program will mitigate some of war's most harmful consequences and empower today's victims to be tomorrow's nation builders.
What's Changed
The team made the following changes to its proposal since it was first submitted in October of 2016, informed by additional research, project development, and authentic engagement with communities of interest—defined as beneficiaries, those who might suffer harm, other funders, and competitors.
Delineated three components to the project: Mass Media, a locally produced children's television show; Home, a direct service program offering home visitation and caregiving support; and Center, an early learning program delivered in community centers and government preschools.
Conducted research to assess the appeal and relevance of Sesame content and to inform development of materials, characters, and curriculum; piloted Reach Up and Learn, the basis for the Home component; conducted RCT (randomized controlled trial) to test platforms for alternative messaging about early childhood development for parents.
Refined the project based on knowledge gained through user-centered design and extensive community engagement, including a decision to provide dubbed versions of media into two Kurdish dialects and English, in addition to Arabic (the colloquial dialect).
Executive Summary: July 2019
In 2018, Sesame Workshop and the International Rescue Committee began implementing Ahlan Simsim, our five-year joint program bringing early learning and nurturing care to children affected by the Syrian conflict and displacement across the Middle East. Year one of Ahlan Simsim began with a nine-month Discovery Phase: a time to revisit assumptions, understand the opportunities and challenges to implementing in a dynamic context, and align our partnership, educational objectives, content, and staffing around the program's ambitions. To learn more, please read the 2018 Executive Summary Annual Report, which highlights key program updates.
About Our Team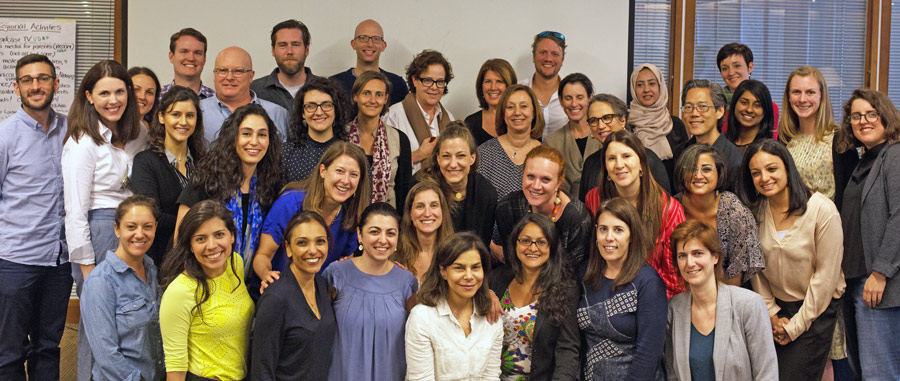 The Sesame-IRC team encompasses a diversity of backgrounds. Experienced in the fields of early childhood education and development, advocacy, production, peace and human rights, public health, technology, management, and public relations and marketing, team members collaborate and use their skills to better the world for children everywhere.
Estee Bardanashvili, Senior Producer, International Social Impact, Sesame Workshop
Nada Elattar, Director of Educational Programs, International Social Impact, Sesame Workshop
Jennifer Kotler Clarke, Vice President, Research and Evaluation, Sesame Workshop
Will Fowler, Vice President, Operations, Sesame Workshop
Shari Rosenfeld, Senior Vice President, International Social Impact, Sesame Workshop
Sherrie Westin, Executive Vice President, Global Impact & Philanthropy, Sesame Workshop
Ravi Gurumurthy, Chief Innovation Officer, International Rescue Committee
Katie Murphy, Senior Technical Advisor for Early Childhood Development, International Rescue Committee
Mark Schnellbaecher, Regional Director for the Middle East, International Rescue Committee
Sarah Smith, Senior Director, Education, International Rescue Committee
Hirokazu Yoshikawa, Courtney Sale Ross Professor of Globalization and Education, Co-Director, Global TIES for Children Center, New York University
More Information
View the Sesame Workshop and the International Rescue Committee project website ›
Project Contacts:
Hallie Ruvin, Senior Director of Strategic Communications, Sesame Workshop
Flavia Draganus, Director of Communications, International Rescue Committee
Twitter: @SesameWorkshop, @SesameStreet, @YellowFeather, @theIRC
Facebook: @SesameWorkshop
YouTube: SesameWorkshop
Related Reading
Advancing Early Childhood Development: From Science to Scale
The Lancet Special Series
Early Childhood Development Coming of Age: Science Through the Life Course
The Lancet
Safe Spaces: The Urgent Need for Early Childhood Development in Emergencies and Disasters
Theirworld
Why Early Childhood Development is the Foundation for Sustainable Development
UNICEF
The Finalists Live Presentation