The Problem
Every year, 1.1 million newborns die in Africa alone, mostly from preventable causes—pre-term birth, complications of labor and delivery, and infections. Providing quality, comprehensive hospital care during birth, labor, and the first week of life can reduce newborn deaths by 75 percent; however, African hospitals lack life-saving technologies that have been available for more than 50 years in high-income countries.
These technologies are not available for three reasons:
Equipment designed for high-resource settings cannot withstand the harsh environments of African hospitals;
The business functions required to develop and distribute medical devices in Africa are poorly coordinated; and
Local entrepreneurs lack sufficient training to maintain or design technologies.
There has never been a better time to address neonatal mortality in Africa. The political resolve has never been stronger. The technology is attainable…Everything is aligned. We will solve this problem.
The Solution
The Newborn Essential Solutions and Technologies (NEST) project addresses these gaps through three approaches:
Innovation to optimize a package of rugged, affordable technologies for quality, comprehensive newborn care;
Access by using evidence to generate large-scale demand for technologies and developing new distributions systems for their affordable delivery; and
Sustainability by educating a pipeline of clinicians and biomedical innovators who can lead systems change to improve newborn health.
After scaling NEST throughout Malawi, the team will assess its cost-effectiveness in southern Tanzania, using this evidence to build demand. The team will work in Nigeria to refine its market, finance, and service strategies. And it will establish a nonprofit distributor in Tanzania and Nigeria.
The team will partner with national healthcare systems and local educational institutions to ensure long-term local ownership of NEST. It will work with universities to educate a pipeline of future clinicians and innovators dedicated to improving newborn health. This new generation of professionals is key to sustaining NEST.
Africa has the highest neonatal mortality rate in the world. It is no surprise that people continue to believe that African newborns are bound to die, but NEST can put this myth to rest. NEST will catalyze continent-wide change within a decade, saving the lives of 500,000 newborns every year at a cost of only $1.48 per birth.
What's Changed
The team made the following changes to its proposal since it was first submitted in October of 2016, informed by additional research, project development, and authentic engagement with communities of interest—defined as beneficiaries, those who might suffer harm, other funders, and competitors.
Refined scaling plan to develop strategies for NEST to be available throughout Africa, beginning with expansion into Tanzania and Nigeria, and eventually to Ethiopia, Uganda, Ghana, and Cote d'Ivoire.
Proposed the creation of a nonprofit distribution company, NEST.org, to be spun off from 3rd Stone Design. Recognizing profit margins may not support a for-profit enterprise in the near term, the team plans to collaborate with the Medical Credit Fund, a nonprofit health investment fund, to test cash, debt, and lease‐based financing across NEST distributors and health facilities.
Developed an education strategy to train clinicians and technicians in Africa to use, maintain, and repair the NEST package. And clarified strategies for creating a pipeline of biomedical innovators in the U.S. and Africa.
About Our Team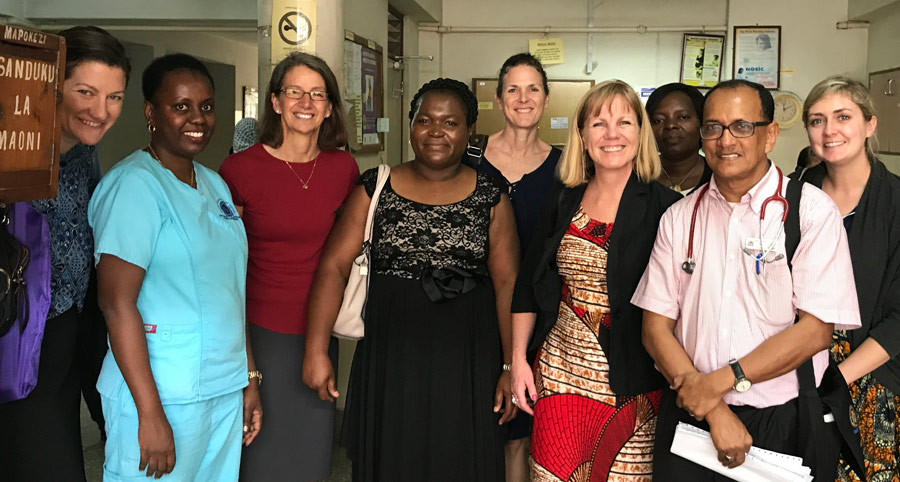 Rebecca Richards-Kortum, Ph.D.
Director of Rice 360° Institute for Global Health, Malcolm Gillis University Professor, Rice University
NEST360° Principal Investigator
Queen Dube, MBBS, MMed (Paeds.), Ph.D.
Paediatrician, Queen Elizabeth Central Hospital, Blantyre, Malawi
NEST Technologies and Package Optimization
Josephine Langton, MBChB, MRCPCH
Academic Head of Department for the Pediatric and Child Health Department at University of Malawi College of Medicine; Pediatric Emergency Medicine Consultant at Queen Elizabeth Central Hospital, Blantyre, Malawi
NEST360° Clinical Curriculum
Joy Lawn, BMedSci, MBBS, MPH, Ph.D., FRCPCH, FMedSci
Director of the Maternal, Adolescent, Reproductive & Child Health (MARCH) Center, London School of Hygiene & Tropical Medicine
NEST360° Process, Impact and Cost Measurement
Theresa Mkandawire MSc, Ph.D., MMIE
Dean of Faculty of Engineering, University of Malawi – Polytechnic, Blantyre, Malawi
NEST360° Pipeline of Biomedical Innovators Creation
Robert Miros
Founder and CEO of 3rd Stone Design Inc.
NEST Distribution
Elizabeth Molyneux, MBBS, FRCP, FRCPCH, FRCEM, DSc,h.c
Consultant Paediatrician, University of Malawi College of Medicine and Queen Elizabeth Central Hospital, Blantyre, Malawi
NEST360° Clinical Users and Service Technician Training
Maria Oden, Ph.D.
Director of Oshman Engineering Design Kitchen; Co-Director of Rice 360° Institute for Global Health University, Professor of Bioengineering, Rice University
NEST Technologies and Package Optimization
Kara Palamountain
Research Associate Professor at the Kellogg School of Management, Northwestern University
NEST360° Demand Generation
Team Partners
University of Malawi College of Medicine
University of Malawi Polytechnic
London School of Hygiene and Tropical Medicine
Northwestern Kellogg School of Management
3rd Stone Design
More Information
View press release on $15 million grant ›
View the Rice 360° Institute for Global Health project website ›

Project Contact: Rebecca Richards-Kortum, Ph.D., Director, Rice 360° Institute for Global Health
Facebook: @Rice360
Twitter: @Rice360atRiceU
YouTube: Rice 360˚ Institute for Global health Technologies
Related Reading
The Use of Sustainable and Scalable Health Care Technologies in Developing Countries
Innovation and Entrepreneurship in Health
Innovation Marketplace for Saving Lives at Birth
Saving Lives at Birth
Every Newborn Action Plan
World Health Organization
The Finalists Live Presentation