The Problem
Looking for a trusted source of information? For millions of citizens there's only one place to head: their local library—society's great equalizer, where Wi-Fi, computers, and knowledge are offered for free, to anyone entering the door. Yet, due to distance, time, cost or disability, people in marginalized populations are too often denied access to physical books. Today for many learners, if a book is not digital, it is as if it does not exist. Yet there is almost a century of knowledge still living only on the printed page, missing from our digital shelves. For the blind, ebooks are a lifeline, yet less than one in ten exists in accessible formats.
The Solution
The Internet Archive's Open Libraries project will bring four million books online, through purchase or digitization, while honoring the rights of creators and expanding their online reach. Together with U.S. libraries, the Internet Archive is building the online equivalent of a great, modern public library. Working with Benetech, operator of the world's largest digital library for people with print disabilities, the Internet Archive will deliver millions of free digital books to billions of people. By digitizing a diverse set of books, we unlock them for communities in rural areas, with widely ranging physical abilities. Because our library shelves can and must be as diverse as our readers, we will curate inclusive content.
Open Libraries selects and preserves diverse collections, helping libraries greatly expand their digital holdings. In 2013, ebooks comprised an average of 17 percent of U.S. public libraries collections. The Internet Archive can turn 80 percent of most public library collections digital by 2023.
Internet Archive has prototyped this model for six years, digitizing a half million modern books originating from 100 partners and lending them to the public. The scale of the project will reduce digitization costs by 50 percent or more.
What's Changed
The team made the following changes to its proposal since it was first submitted in October of 2016, informed by additional research, project development, and authentic engagement with communities of interest—defined as beneficiaries, those who might suffer harm, other funders, and competitors.
Formed relationships with Benetech, National Federation of the Blind (NFB), LightHouse for the Blind, US Library of Congress' National Library Service (NLS) for the Blind and Physically Handicapped, Accessible Digital Library of India, Centre for Internet and Society (India), and Learning Ally to improve its services to individuals with disabilities and share ebooks with readers with print disabilities in Marrakesh Treaty ratifying nations.
Created new relationships with public library systems, library associations, and academic libraries, including the Los Angeles, Boston, San Francisco public library systems, the American Library Association, the Public Library Association, and Georgetown University Law and University of Alberta Libraries.
Formed partnerships for large-scale technical integration with library vendors Zepheira, OCLC and New York Public Library's new mobile bookreader, SimplyE.
Provided greater detail on the curation of books to be digitized (part of the Inclusive Curation Project) conducted in partnership with the Digital Library Federation, the Digital Public Library of America, and Benetech.
About Our Team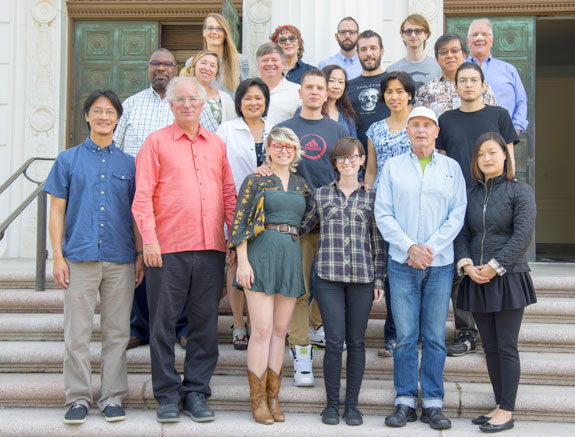 Brewster Kahle, Founder & Digital Librarian, Internet Archive
Wendy Hanamura, Director of Partnerships
John C. Gonzalez, Director of Engineering
Tracey Jaquith, Senior Engineer and Architect
Brenton Cheng, Senior Engineer of Open Library
Jim Michalko, Senior Strategist
Lila Bailey, Policy Counsel
Project Partners
Jim Fruchterman, Founder, Benetech
Hannah Scates Kettler, Chair, Digital Library Federation Cultural Assessment Interest Group
Dan Cohen, Founding Executive Director, Digital Public Library of America
More Information
View the Internet Archive project website ›
Project Contact
Wendy Hanamura
Director of Partnerships, Internet Archive
Facebook: @internetnetarchive
Twitter: @InternetArchive , @OpenLibrary
Related Reading
Deep Learning for Healthcare: Review, Opportunities and Challenges
National Center for Biotechnology Information, U.S. National Library of Medicine
From Virtual Nurses to Drug Discovery: 106 Artificial Intelligence Startups In Healthcare
CB Insights