The Problem
Globally, over a billion people lack access to basic medical insight, and 150 million suffer financially as a result. In the United States, 30 million underserved Americans rely on the nation's safety net system of more than 10,000 community health centers and free clinics for primary care services.
Yet, a critical gap remains: 91 percent of safety net clinics cannot get reliable, fast access to specialist care for the uninsured, leading to sicker patients and increased ER visits and hospitalizations. For the one in ten Americans who lack health insurance and need specialty care, the options are limited: pay out of pocket or delay treatment.
The Solution
The Human Diagnosis Project (Human Dx) has developed an electronic consultation (eConsult) system enhanced with collective physician intelligence to help physicians provide specialist expertise to those who cannot afford it.
Over the next five years, the Human Dx Alliance—which includes several of the United States' leading medical bodies, safety net providers, and physicians from more than 70 countries—aims to implement this system across the country. Human Dx will enlist 8,000 safety net clinics and 50,000 specialists to provide electronic consultations for more than three million patients, while permanently extending the capacity of the safety net to close the specialty care gap for its 30 million patients.
Each patient helped will add to an open intelligence system and that brings about a more inclusive and sustainable future of medicine, delivering this expertise first for the U.S. and ultimately, globally.
What's Changed
The team made the following changes to its proposal since it was first submitted in October of 2016, informed by additional research, project development, and authentic engagement with communities of interest—defined as beneficiaries, those who might suffer harm, other funders, and competitors.
Launched the Human Dx Alliance for the Underserved, a partnership of many of the nation's leading medical bodies and research experts.
Launched a national loan repayment program for specialists who commit to helping the underserved for one year.
Developed a sustainable financing model, which will reach breakeven by five years through reimbursements for public (e.g., state Medicaid) and private payers.
About Our Team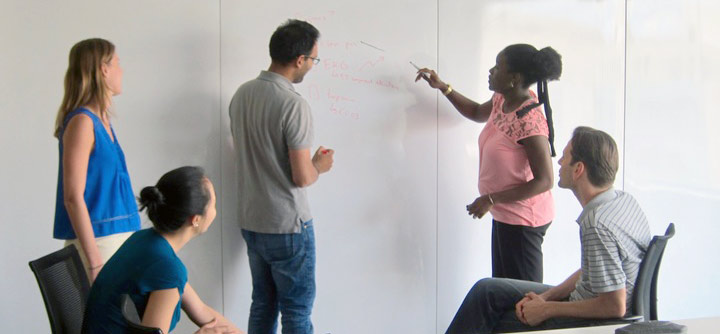 The Human Diagnosis Project is a worldwide effort structured as a partnership between the social, public, and private sectors. Its leadership includes project leads from the Human Diagnosis Project and advisors from its lead implementation partners.
Team Partners
American Board of Internal Medicine
American Board of Medical Specialties
American Medical Association
Association of American Medical Colleges
Association of Clinicians for the Underserved
National Association of Community Health Centers
More Information
View the Human Diagnosis Project project website ›
Project Contact: Tyler Brandon, Community Lead
Facebook: @humandx
Twitter: @human_dx
Related Reading
Deep Learning for Healthcare: Review, Opportunities and Challenges
National Center for Biotechnology Information, U.S. National Library of Medicine
From Virtual Nurses to Drug Discovery: 106 Artificial Intelligence Startups In Healthcare
CB Insights