The Problem
Today, 39 million people are blind worldwide—half from treatable cataracts—while another 246 million struggle with low vision. Ninety percent of those affected with blindness live in the developing world and 60 percent are women. However, 80 percent of global blindness is reversible or preventable. Due to a severe shortage of providers and growing aging populations, the global backlog of treatable blindness will increase if an effective solution is not realized.
Blindness creates social dependency, reduces the workforce, shortens lives, and robs children of education. In developing economies, it causes $49 billion in lost productivity, annually. Blindness magnifies poverty and poverty perpetuates blindness.
The Solution
The Himalayan Cataract Project (HCP) will develop and deliver sustainable eye care in Nepal, Ethiopia, and Ghana, creating an adaptable "train the trainer" model that can be replicated and scaled around the world.
HCP's model invests in people and infrastructure, empowering local communities and enhancing local eye health care systems through training and new technology. The model takes into account geopolitical and cultural considerations in order to be most effective in each geographic setting.
By training community health providers, the HCP will deliver cataract surgery and permanent refractive correction—commonly known as laser surgery—at low cost to more than 500,000 people. Sight-restoring cataract surgeries can be performed for as little as $25.
Studies have shown a 400 percent return on every dollar invested in eliminating blindness. The project is expected to bring significant gains to the families, communities, and countries involved and to provide a model for curing blindness across the developing world.
What's Changed
The team made the following changes to its proposal since it was first submitted in October of 2016, informed by additional research, project development, and authentic engagement with communities of interest—defined as beneficiaries, those who might suffer harm, other funders, and competitors.
Delineated the training, clinical service and infrastructure components of project in greater detail—including a clear demonstration that replication of the adaptable Nepal model is well underway in Ethiopia and Ghana, and poised for scale.
Undertook an economic impact analysis of the project, forecasting that investments will yield increased dividends in sight-restoring surgeries for many years beyond the project duration.
Received donation of medical equipment from Johnson & Johnson valued at $1.6 million, which builds on the momentum of HCP's semifinalist selection in 100&Change.
About Our Team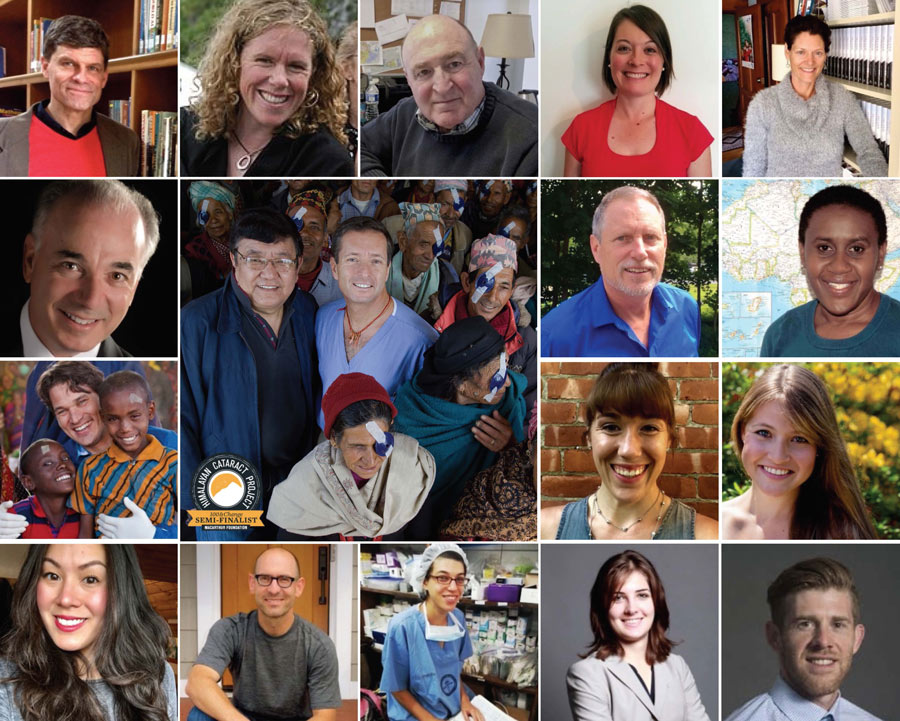 The Himalayan Cataract Project has 8 board members; 14 US-based staff; and seven field personnel in Nepal, Ghana and Ethiopia. HCP's strength comes from its ability to leverage a vast network of over 100 partner organizations; and dozens of advisors and educators from around the world.
Team Leads
Geoffrey Tabin, MD, Co-Founder & Chairman, Himalayan Cataract Project
Sanduk Ruit, MD, Co-Founder, Himalayan Cataract Project; Founder, Tilganga Institute of Ophthalmology
Job Heintz, JD, MSL Chief Executive Officer, Himalayan Cataract Project
Guy Kezirian, MD, Board of Directors, Himalayan Cataract Project
Matt Oliva, MD, Board of Directors and Ethiopia Clinical Director, Himalayan Cataract Project
Emily Newick, MPH, Chief of Operations, Himalayan Cataract Project
Pamela Clapp, MSA, Chief of Program Administration, Himalayan Cataract Project
Julie Bond, M.Ed., Director of Development, Himalayan Cataract Project
Team Partners
Clinical and training:
Tilganga Institute of Ophthalmology, Nepal
Aravind Eye Care System, India
L V Prasad Eye Institute, India
John A. Moran Eye Center, University of Utah
Department of Ophthalmology & Global Medicine, Stanford University
International Council of Ophthalmology, Magrabi – ICO Cameroon Eye Institute
Komfo Anokye Teaching Hospital, Ghana
Menelik Hospital, Addis Ababa University Dept. Ophthalmology, Ethiopia
Sight for Souls/ MCM Hospital, Ethiopia
Industry:
IBM Watson Health
Clarity Design / USD Shiley Marcos School of Engineering
Global Vision 2020
More Information
View the Himalayan Cataract Project project website ›

Project Contact
Job Heintz, JD, MSL, Chief Executive Officer
Facebook: @cureblindness
Twitter: @cureblindness
Youtube: Cure Blindness
Related Reading
Investing in Vision – Comparing the Costs and Benefits of Eliminating Avoidable Blindness and Visual Impairment  
PwC Australia
Universal Eye Health: A Global Action Plan 2014-2019
World Health Organization
VISION2020: The Right to Sight
The International Agency for the Prevention of Blindness