The Problem
River blindness threatens an estimated 120 million people worldwide. Caused by a worm parasite that spreads via the bite of black fly, the disease is most endemic in Nigeria. With its dense and growing population, roughly 50 million people in 40,000 communities in Nigeria are infected with or at risk of the disease.
River blindness causes devastating socio-economic repercussions in Africa, resulting in food insecurity, lack of education for children who must care for blinded parents, intergenerational poverty, and social stigma.
The Solution
The Carter Center will eliminate transmission of river blindness disease in Nigeria, creating a model for the rest of Africa and the world.
In partnership with the Ministry of Health and local NGOs, the Center will work through community-directed distribution systems to administer the drug ivermectin (Mectizan®, donated by Merck & Co.) once or twice per year. This medicine is proven to stop transmission of the condition.
The program will train community-level volunteers in the appropriate dosing and administration of the drug and to provide health education to families and neighbors, creating a sustainable, rudimentary healthcare infrastructure in remote communities.
Similar Carter Center projects have eliminated river blindness from four countries in the Americas and from parts of Uganda and Sudan. This project will bring these best practices to scale across Nigeria, demonstrating that eliminating river blindness is possible in even the largest and most challenging environments.
What's Changed
The team made the following changes to its proposal since it was first submitted in October of 2016, informed by additional research, project development, and authentic engagement with communities of interest—defined as beneficiaries, those who might suffer harm, other funders, and competitors.
Sharpened focus on what it means to move from a program to "control" river blindness to a campaign to eliminate it from Nigeria and focused on what it will take—conceptually, financially and logistically—to implement.
Envisioned a 'division of labor' among NGO partners in Nigeria, who have been operating for many years in various Nigerian states, and discussed the 100&Change proposal with the Federal Ministry of Health of Nigeria which is an enthusiastic supporter of moving from plan to action to eliminate river blindness.
Developed process for assessing the status of transmission in areas of Nigeria where river blindness transmission is considered unlikely due to ecological conditions unsuited for black flies.
About Our Team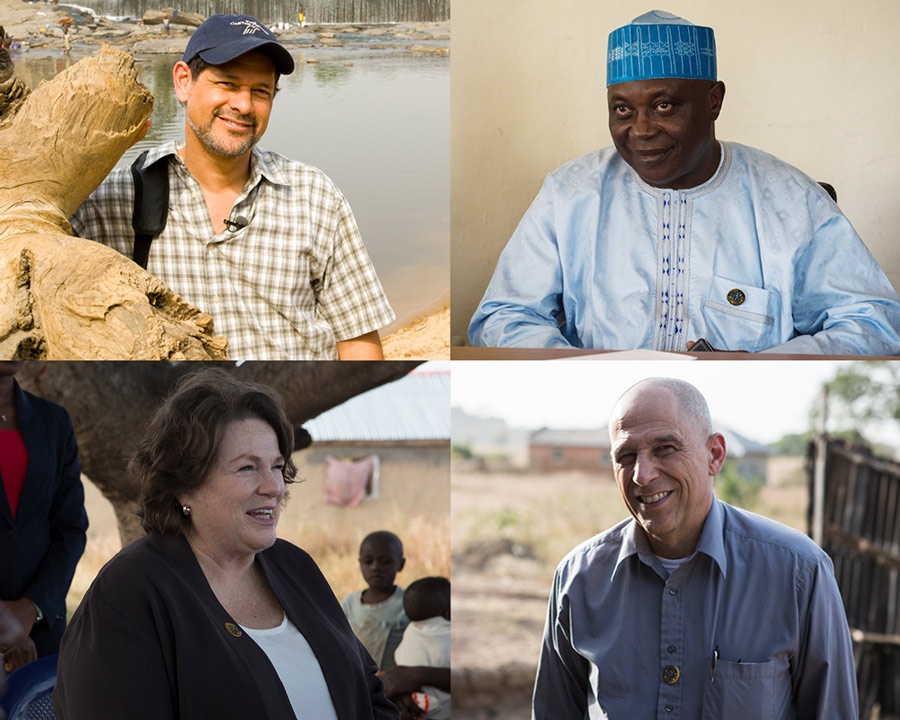 The Carter Center's 100&Change project team includes leaders in Atlanta headquarters and field offices in Nigeria, as well as thousands of critical volunteer community health workers. Pictured here are:
Dr. Frank Richards (top left), Director, River Blindness Elimination Program, The Carter Center
Dr. Emmanuel Miri (top right), Country Representative in Nigeria, The Carter Center
Ambassador (ret.) Mary Ann Peters, CEO, The Carter Center
Dr. Dean Sienko (bottom right), Vice President for Health Programs, The Carter Center
Team Partners
Nigerian Federal Ministry of Health
Nigeria Onchocerciasis Elimination Committee
State and local governments of Nigeria
Partner NGOs in Nigeria and the endemic communities
More Information
View The Carter Center project website ›
Project Contact
Nicole Kruse, Chief Development Officer, The Carter Center
Facebook: @cartercenter
Twitter: @CarterCenter
YouTube: The Carter Center
Related Reading
Guidelines for Stopping Mass Drug Administration and Verifying Elimination of Human Onchocerciasis
World Health Organization
Mectizan and Albendazole for River Blindness and Lymphatic Filariasis
Mecticzan Donation Program
River Blindness Best Practices
The Carter Center