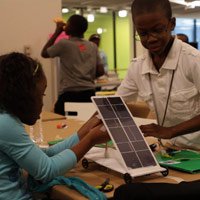 MacArthur today announced the launch of Collective Shift, a new nonprofit whose mission is to redesign social systems for the connected age. With $25 million in seed funding, Collective Shift's first project is LRNG, which is creating a 21st century ecosystem of learning that combines in-school, out-of-school, work-based, and online learning opportunities that are visible and accessible to all.
With LRNG, Collective Shift builds on more than $200 million in research, design experiments, and demonstrations that MacArthur supported over the past decade. The goal of that work was to understand how young people are learning with digital media and what the implications are for how learning is designed and supported to ensure more equitable access to opportunity for success.
The new organization will expand a MacArthur-supported, city-based demonstration project designed to align city resources, connect in- and out-of-school learning, and advance workforce development to help prepare young people for college, career, and engaged citizenship. Over the past three years, pilots in Chicago, Dallas, Pittsburgh, and Washington D.C. provided a vast array of in-person and online learning opportunities—hundreds of them to more than 100,000 youth this past summer alone.
"The real scale and spread of the principles, practices and products that have emerged from ten years of investment in digital media and learning require a new, more diverse set of investors and partners; alternative funding models and mechanisms; and a more entrepreneurial and innovative way of operating than is possible as a foundation program." said MacArthur President Julia Stasch. "We are making a bet on LRNG, and on Collective shift, as a new model of a nonprofit organization, combining the vision and structure of a nonprofit with the business rigor, product development mentality, agility, and growth potential of a technology company."
LRNG is led by Collective Shift CEO Connie Yowell, former director of education at MacArthur, and COO Jessica Lindl, former executive director of GlassLab, a leader in new approaches to assessment, game development, and learning. GlassLab will merge with Collective Shift, initially to build out the LRNG analytics platform, and design and develop breakthrough LRNG games and an engaging youth platform for accessing learning opportunities.
MacArthur's Digital Media and Learning program produced a new pedagogy called "Connected Learning." It brings together the fragmented spheres of a young person's life—interests, academic and work opportunities, and peer culture—and is the pedagogical basis for LRNG. LRNG also incorporates digital badges, a promising approach to credentials, supported by the Foundation to make learning of all types more visible and valued in education and the workplace.
Over the past several years, MacArthur supported five Digital Media and Learning Competitions to foster innovative products and approaches, making more than $11 million available to more than 100 projects. To help secure the legacy of MacArthur's Digital Media and Learning program and connect it to LRNG's new ecosystem for learning, MacArthur will support a final Digital Media and Learning Competition that will be announced in early 2016. The Foundation has also awarded final grants to a set of existing grantees to ensure the continuity and sustainability of ideas and communities that were seeded over the past 10 years.
Arizona State University, Gap Foundation, the Boys & Girls Clubs, Electronic Arts, Fossil Foundation, National Writing Project, the Schultz Family Foundation, and musical artist John Legend, have joined the Foundation to launch LRNG to combine learning experiences, anytime, anywhere, into a seamless network that is open, motivating and inviting to all youth.
"Every young person deserves access to learning that engages, inspires and equips them to reach their full potential, and the goal of LRNG is to make that a reality," said Yowell. "Together with committed partners from every sector, we plan to build out LRNG across the country and around the world."
LRNG was formally announced today in Washington, DC, at the U.S. Chamber of Commerce Foundation's annual Corporate Citizenship Conference. Additional launch activities will take place in conjunction with the Social Capital Markets SOCAP15 conference in San Francisco on October 8.