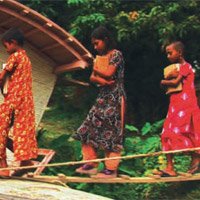 MacArthur, which has supported independently produced film and video for 30 years, today announced eight grants — totaling $1.23 million — for documentary film projects.
"MacArthur's support for documentary film and radio projects is an integral part of our broader efforts to make information and news about important domestic and international social issues widely available to U.S. audiences," said MacArthur Vice President for Media, Culture, and Special Initiatives Elspeth Revere. "Documentaries supported by MacArthur use compelling stories and characters to illuminate serious issues in approachable, creative, and engaging ways."
The Foundation received nearly 400 proposals in response to its June open call for documentary film proposals. After an extensive internal review process, the following eight projects were chosen for support.
• The Arizona Project, a documentary film exploring the immigration debate sparked in 2010 by Arizona's controversial immigration law, by Carlos Sandoval and Catherine Tambini. Camino Bluff Productions ($200,000).
• Easy Like Water, a documentary film about an innovative approach to education and climate change in Bangladesh, by Glenn Baker. Potomac Media Works ($160,000).
• Electoral Dysfunction, a documentary film examining the system of voting and voting rights in the U.S., by Bennett Singer, Leslie D. Farrell, and David Deschamps. Center for Independent Documentary, Inc. ($175,000).
• I Learn America, a documentary film about immigrant integration from the perspective and experience of five immigrant high school students and their teachers, by Jean-Michel Dissard and Gitte Peng. I Learn America LLC ($125,000).
• Oil & Water, a documentary film exploring the contamination of Ecuador's Amazon region and efforts to protect the area and its people, by Francine Strickwerda and Laurel Spellman Smith. Stir It Up Productions LLC ($80,000).
• Seeking Refuge, a documentary film about torture survivors and the professionals who help them heal and start new lives, by Tina DiFeliciantonio and Jane Wagner. Naked Eye Productions ($140,000).
• The Supreme Price, a documentary film about the pro-democracy movement in Nigeria and efforts to increase the participation of women in leadership roles, by Joanna Lipper. Vertumnus Productions, Inc. ($200,000).
• Untitled Egyptian Project, a documentary film about a young Egyptian journalist and her experiences as change takes place in Egypt in early 2011, by Mai Iskander. Iskander Films, Inc. ($150,000).
The Foundation funded five film and radio documentary projects earlier in the year, bringing MacArthur's total commitment to independently-produced film and radio projects for 2011 to more than $2 million.
The next open call for documentary film proposals opens on November 1, 2011 and closes on December 2, 2011. Details are available at www.macfound.org/media.
The MacArthur Foundation supports creative people and effective institutions committed to building a more just, verdant, and peaceful world. In addition to the MacArthur Fellows, the Foundation works to defend human rights, advance global conservation and security, make cities better places, and understand how technology is changing children and society. More information is available at www.macfound.org.