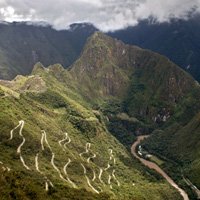 MacArthur announced 15 grants totaling more than $4.2 million in support of conservation and sustainable development in the southern Tropical Andes. Often referred to as the "global epicenter of biodiversity," the region is a primary source of fresh water, holding 90 percent of the world's tropical glaciers. As climate change and development projects present a growing threat to the region's diverse ecosystems, the new grants invest in research, policy, and practice that advance sustainable development and prudent stewardship of resources.
"Ecosystems and their biodiversity underpin human well-being," said Jorgen Thomsen, the Foundation's Director of Conservation and Sustainable Development. "The Andes region is among the most diverse ecosystems in the world, and we must find a way to reconcile the tremendous desire for economic development in the region with the need to preserve its wide range of precious resources. We hope that successes from these projects will yield models for effective conservation work elsewhere."
The grants, which will support work in Peru and Bolivia, are the first made in the Tropical Andes under the Foundation's $176 million, ten-year commitment to conservation and sustainable development, announced in March 2011. Previous rounds of funding have invested in work in the Great Lakes of East Central Africa and the Greater Mekong and its headwaters. The grants are as follows:
The MacArthur Foundation has supported conservation efforts around the world for more than 25 years and was the first major private foundation to adopt biodiversity conservation as a core component of its international grantmaking.