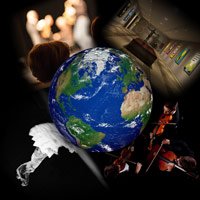 MacArthur today announced grants to 14 Chicago arts and culture organizations for diverse artistic exchanges in 14 countries, including Cuba, Colombia, Grenada, and South Africa.
"The International Connections Fund enables Chicago's vital arts and culture sector to continue to build Chicago's reputation as a global city; the work that comes out of these exchanges will touch people around the world," said MacArthur President Julia Stasch. "Even as the Foundation tackles new problems, MacArthur remains committed to Chicago's arts and culture community, largely through general operating support that provides flexible, reliable funding to help organizations plan ahead, pursue new ideas, and invest in new artistic directions."
The following organizations will receive International Connections Fund grants:
ART WORKS Projects – $50,000 for an exchange with artists and organizations in the Democratic Republic of Congo, Bosnia-Herzegovina, and Colombia to create an international photography exhibition that will be presented in each country and in Chicago.
Chicago International Music and Movies Festival – $20,000 to partner with a Canadian music festival so each festival can showcase the other's art, artists, and organizations.
Chicago Moving Company – $30,000 for an exchange with a Japanese dance organization to create a cross-cultural modern dance that will be performed in Chicago and Sapporo, Japan.
Civitas Ensemble – $38,000 for an exchange with an ensemble in the Czech Republic to arrange new musical works that combine classical chamber music with Gypsy music, to be performed in both Chicago and the Czech Republic.
Ensemble Español Spanish Dance Theater – $20,000 for a dance exchange with two world-renowned Spanish dancers and choreographers to produce an original dance that will premier during the Ensemble's 40th anniversary season.
Global Girls Inc. – $50,000 for an exchange with a Grenadan women's organization to collaboratively develop and perform a performance art piece addressing womanhood that incorporates music, dance, and drama.
Hyde Park Art Center – $40,000 for an exchange with a French organization to produce new, cross-cultural film or photography exhibitions to be presented in Chicago and France.
International Latino Cultural Center of Chicago – $50,000 for an exchange between the center's partner, the Avalon String Quartet, and a string quartet in Colombia to conduct workshops and premiere two new musical works in Colombia and during the Latino Music Festival in Chicago.
Kohl Children's Museum of Greater Chicago – $50,000 for an artistic exchange with a South African learning organization to collaborate on an exhibit and art installation for both locations.
Links Hall – $40,000 for an exchange with the Netherlands to collaborate on developing new improvisational dance for an improvisational music festival in Amsterdam, Berlin, and Chicago.
Lucky Plush Productions – $50,000 for a dance exchange with a Cuban dance company to co-create a new work combining dance and theater that will be performed in Cuba and Chicago.
Ruth Page Center for the Arts – $50,000 for an exchange with artists in Cuba to collaborate on a new choreographed piece with accompanying music to be performed in Cuba and Chicago.
Silk Road Rising – $50,000 for an exchange with a German theater to translate, adapt, present, and publish a play on Muslim culture to be performed in Germany and Chicago.
Winifred Haun Dancers – $25,000 for an exchange with an Australian acrobatics and movement ensemble to collaborate on choreography combing modern dance with acrobatic arts, to be performed in Australia and Chicago.
MacArthur's International Connections Fund was initiated in 2008 to enable Chicago arts organizations to launch new partnerships and creative projects with cultural organizations in other countries. Since then, the Foundation has awarded more than 100 such grants.
International Connections Fund grants are limited to Chicago-area nonprofit arts and culture organizations that have received a grant within the last three years from MacArthur or through the MacArthur Funds established at the Richard H. Driehaus Foundation and the Prince Charitable Trusts.
International Connections Fund grants are one component of the Foundation's overall $10 million in annual support to more than 300 Chicago arts and culture groups as an expression of its enduring commitment to its headquarters city and the home of its founders.