Scientific research has dramatically changed our understanding of what drives human behavior, and of the social conditions that represent a risk for or protection against crime and violence involvement. These insights can inform policy innovations that reduce crime and violence and yield long-term social progress.
The University of Chicago Crime Lab provides scientific evidence about the effectiveness and impact of strategies to reduce violence and crime, with a particular focus on programs informed by research into human behavior. At a time when public sector resources are scarce, Crime Lab's ultimate goal is to provide the highest quality evidence to inform policymakers about which strategies do the most social good per dollar spent.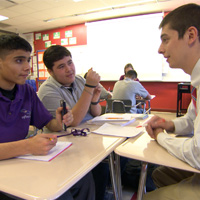 Crime Lab's empirical approach to evaluation combines cost-benefit analysis with randomized control trials to assess program efficacy and cost. Such trials are the standard for testing innovations in medicine, yet Crime Lab is a leader in expanding the use of this scientific approach to the crime and social policy fields. Crime Lab has used these trials to evaluate programs ranging from Wisconsin's efforts to improve re-entry outcomes for ex-offenders to New York City's use of behavioral economics research to design environments that encourage pro-social behavior among people on probation.
Crime Lab has applied its approach to a range of social challenges in Chicago, including gun crime, school dropout rates, and programs to reduce violence involvement. Crime Lab's evaluation of Chicago's "Becoming a Man" mentoring program, developed by Youth Guidance and World Sport Chicago, found that it decreased violent crime arrests of participants by 44 percent. Crime Lab is collaborating with criminal justice agencies including the Chicago Police Department to identify and interrupt sources of crime guns, and the U.S. Department of Justice to study the effects of placing more police on city streets.
As the push for evidence-based policy decision-making strengthens and the appetite for concrete program evaluations grows, Crime Lab is expanding its reach, working with agencies from Chicago to New Orleans to New York, and has been contacted by international partners to engage in new work beyond the United States.
Crime Lab will use its $1 million MacArthur Award for Creative and Effective Institutions to establish an innovation fund, develop new research methods, and seed new research projects.