Investigative reporting is one of the most expensive and time-consuming forms of journalism to conduct, yet a vitally important function of the press in a democratic society. As news organizations have undergone tremendous financial upheaval in recent years, many have lost the resources required to fulfill the traditional role of investigative journalism, an important way of rooting out corruption in society and maintaining an informed citizenry.
ProPublica creates high quality, in-depth investigative journalism with a team of 40 working journalists. It has kept what is important about traditional journalism – accuracy, fairness, verification – and applied new technologies and tools to amplify and disseminate its reporting.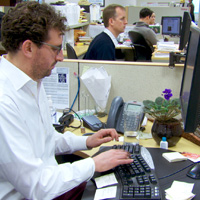 The five-year-old nonprofit investigative reporting outfit has become a leading collaborator with other news organizations in an industry once famous for its competiveness. It regularly collaborates with and contributes reporting to dozens of news partners, including the New York Times, Guardian, NPR, This American Life, and a variety of broadcast outlets and regional and local newspapers.
ProPublica's early reports on the dangers of natural gas drilling, or fracking, helped spark more critical attention and widespread debate on the issue. Its reporting on fraudulent financial activities that exacerbated the effects of the 2008 economic crisis have helped inform government investigations. In 2013, its reporting with PBS FRONTLINE on assisted living revealed an industry subject to minimal state regulations and no involvement by federal officials.
ProPublica has developed a reputation for expertise in key areas such as health, environment, and financial issues. It has plans to expand its capacity to report on more issues such as cyber security, immigration, child welfare, and the business of sports.
ProPublica will use its $1 million MacArthur Award for Creative and Effective Institutions to build its cash reserve, laying the groundwork for reporting on more issues.