Conservation and protection of the Earth's land, natural resources, and biodiversity is a messy, complex business. Political boundaries and ecosystems don't easily align with the interests of conservationists, governments, businesses, and communities. As a result, measuring conservation progress can be difficult and collaborating on common goals can be hard to sustain without a network.
NatureServe is that network—a leader in guiding resources towards the places, species, and ecosystems in greatest need of protection and measuring the effectiveness of conservation actions. Its more than 1,000 scientists, information technology experts, and other professionals manage, synthesize, and analyze species and habitat data; create reliable scientific knowledge about biodiversity for use by experts and policymakers; and provide conservation and resource managers with useful data, tools, and expertise.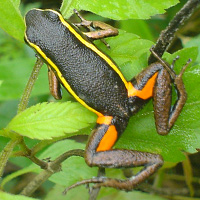 The organization serves as the hub of an international, public-private network of biological inventories that operate across much of Central and South America, and throughout North America. It also lends its expertise in Asia and Africa through growing networks of scientific agencies, universities, and nongovernmental organizations.
In one innovative example of its work, NatureServe is developing a user-friendly web application—or "dashboard"—for conservation monitoring in the Asian Mekong Basin, the African Great Lakes, and the Tropical Andes. This online tool visualizes key biodiversity indicators and tracks their change over time, showing which on-the-ground activities have the greatest impact toward achieving conservation and development targets in each region.
NatureServe's work helps civil society, governments, and private companies establish benchmarks and make effective decisions about environmental stewardship. By responding to more than six million data queries each year, the NatureServe network informs land use and natural resource management decisions that guide conservation to the most important places and diminish harmful impacts on biodiversity.
NatureServe will use its $1 million MacArthur Award for Creative and Effective Institutions to accelerate and implement a new, five-year strategic plan that includes expanded monitoring and evaluation to increase the effectiveness of conservation action.