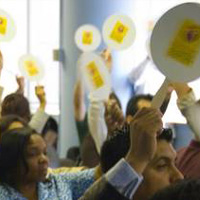 The National Alliance of Latin American and Caribbean Communities (NALACC) supports the well-being and political and social empowerment of immigrants in the U.S. and in their home countries through public dialogue, policy work, and transnational organizing.

The money that immigrants working in the U.S. send to relatives back home is an economic bedrock in many Latin American and Caribbean countries. New homes, clinics, and schools are built and small businesses are launched thanks to these remittances. And, many immigrants plan to ultimately move back home. So NALACC helps to raise the profile of these immigrants to facilitate their dialogue and interactions with their home country governments at the local, regional and national levels, while also helping to ensure immigrants in the U.S. are treated fairly and are recognized for their economic and cultural contributions. Founded in 2004 in Chicago, NALACC has 72 member organizations in 12 states and is one of the largest immigrant-led organizations in the country, providing an important complement to Washington-based immigration reform groups, many of which are headed by non-immigrants. NALACC helps immigrant leaders and policymakers in the U.S. and Latin America better understand global migration trends through research, networking, and advocacy.

The National Alliance of Latin American and Caribbean Communities will use its $350,000 award to create an operating reserve, allowing it to increase its use of social media, expand its geographic reach, and develop new training materials for immigrant leaders regarding global migration.