Back to Technology in the Public Interest
Technology in the Public Interest
Our Goal
Strengthening research and advocacy addressing the social impacts of technology.
Technology in the Public Interest grants are made by invitation only.
The internet and related technologies have fundamentally reshaped how people everywhere communicate, share knowledge, and understand the world. The rise and spread of this communication infrastructure was cause for great optimism among many as it catalyzed freedom of speech and access to information, enabled rapid innovation, and facilitated new types of accountability and civic participation. However, these advances are coupled with significant challenges. The internet and social media platforms are places where speech can both thrive and be censored by government and private sector actors. Access to information is democratized and also controlled. Lies and hatred can spread as quickly as truth in the digital environment. The internet and related technologies have introduced new and deepening threats to privacy and security, a challenge that will increase with the growth of internet connected devices.
While efforts to address the public interest opportunities and challenges posed by the internet and social media platforms continue, a new set of technological changes are underway that are poised to be equally transformative. Artificial intelligence (AI) technologies, primarily driven by advances in machine learning, are augmenting or replacing human decision making across domains ranging from healthcare to education and criminal justice to financial services. Growing interdisciplinary and intersectional research demonstrates how these technologies can introduce new risks and harms that often disproportionately impact marginalized people and communities. Yet AI-related technologies are being integrated with minimal public oversight, few accountability mechanisms, and too little thought to understanding their social impacts.
Beneath the veneer of technological innovation is an old story about how power operates. The changes in society triggered by new technology are both creating and augmenting power asymmetries between and among people and institutions. How that power evolves is essential to understand and address in order to advance justice and equity in the digital age. Technology in the Public Interest grantmaking is a response to these dynamics.
Technology in the Public Interest works to ensure that:
MacArthur has a deep understanding of civil rights and civil liberties challenges in the digital age;
The Foundation's Big Bet and Enduring Commitment teams identify and become knowledgeable about how changes in technology could have an impact on their grantmaking; and
MacArthur advances the role of philanthropy in addressing the social implications of technology.
Two grantmaking priorities ground this work:
Developing the capacity of civil society to ensure that the social implications of artificial intelligence are addressed by advancing efforts that connect research, policy, and practice; and
Strengthening civil rights and civil liberties in the digital age by improving the governance of digital technology.
Grantmaking aims to support an ecosystem of people, organizations, and networks. We seek to advance justice, diversity, equity, and inclusion across our work and increase civil society's capacity to analyze and translate technology developments for policymakers and the public.
---
We are not accepting unsolicited proposals at this time.
---
Updated June 2020
Staff
Evaluation Contact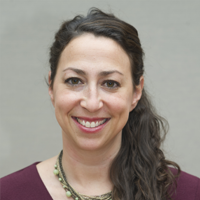 Joanna Cohen
Former Senior Evaluation Officer
View All Staff