Summary
From 1991-2015, we made over 1800 grants totaling $107 million to more than 1300 organizations and individuals in Russia.
We launched our initiatives in the Independent States of the Former Soviet Union in 1991 to "contribute to the transition to a civil and democratic society and to the integration of the society into the global community." We opened an office in Moscow in 1992. All our activities in Russia were charitable in nature and did not engage in or support political activity or lobbying to change laws.
Our work in Russia and the rest of the former Soviet Union was an integral part of our international engagement across a number of program areas, including an early focus on independent media, human rights, higher education, and energy and the environment. Later we narrowed our focus from the entirety of the Former Soviet Union to solely on Russia, and our work included peace and security, research, and social sciences. In all these areas, we focused on strengthening institutions of civil society, developing norms, and assisting reforms. Over the quarter-century of our presence in Russia, we continuously adapted program priorities in response to the changing needs of Russian civil society and to reflect our own learning.
Energy and the Environment
Early work on energy and the environment was in concert with our long-standing commitment to conservation and climate issues. We supported energy efficiency, the economic and environmental impacts of energy production and use, and safety issues associated with nuclear energy. In the area of environment and natural resources, we focused on both "brown" issues (pollution and associated threats to human and environmental health) and "green" issues (protected areas and natural resource management).
Our funding helped to jump-start the practice of sustainable forestry certification in Russia, and grantees went on to seed municipal energy efficiency programs in the country. Between 1990 and 2009, there was a ten-fold increase in the ratio of protected areas to total territorial area (per International Union for Conservation of Nature data). We wound down our environment-related grantmaking, especially after Russia eliminated its federal environmental protection agency in 2000.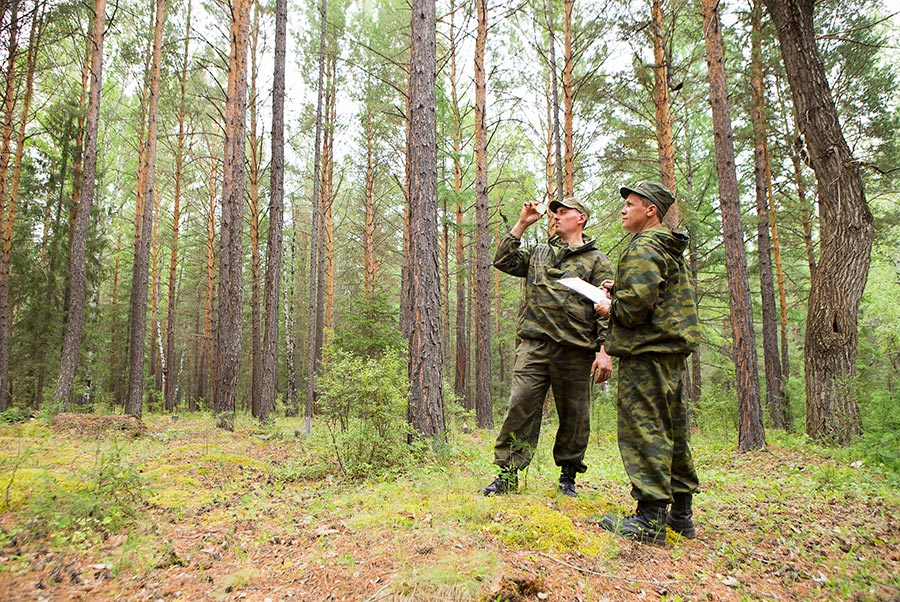 A forestry inspector and forester mark out the plot for sanitary felling of the forest.
Research and Writing and Higher Education
Another early focus of work was strengthening independent media and independent investigative reporting. We supported individuals through a Research and Writing grant competition, which was open to scholars, journalists, and practitioners throughout the former Soviet Union. Beginning in 1993, we ran 11 rounds of this competition, which drew on the services of a multi-national selection committee. Over 1000 grants totaling more than $14 million were awarded through the competition; these diverse projects helped to fuel the careers of many analysts and incubated new policy institutes and non-governmental organizations. By far, the largest category of recipients was researchers on environmental and energy issues to whom we awarded more than $5 million in grants.
By 1997, we turned attention to capacity building in the social sciences, including funding for the European University at St. Petersburg, the New Economic School, and the Moscow School of Social and Economic Sciences. We expanded these efforts in 1997-1998 with a science program – Basic Research and Higher Education in Russia (BRHE). BRHE established centers of excellence in the natural and physical sciences at Russian state universities. Working in close partnership with the Russian Ministry of Education, we provided more than $30 million to BRHE over the next 14 years.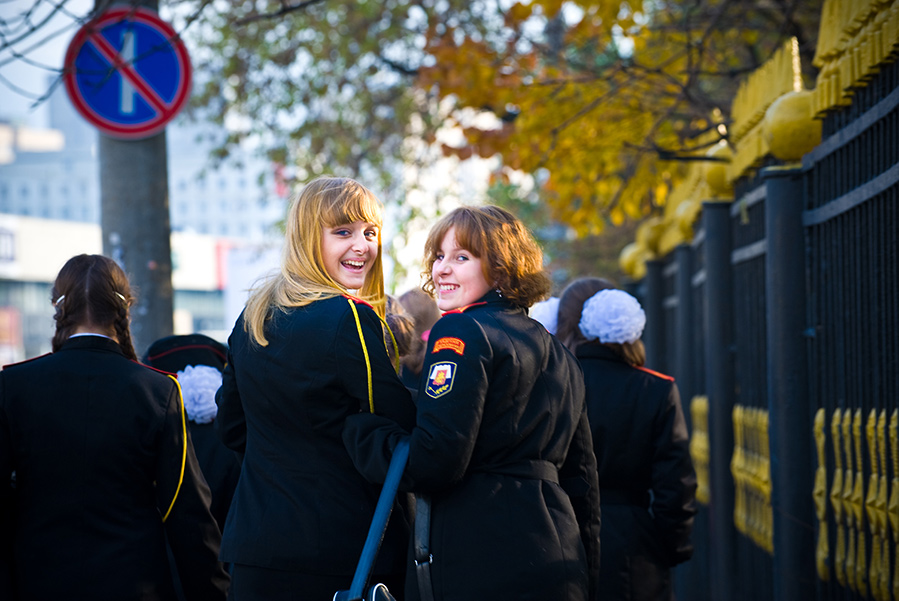 Military college cadets on the street
Focus on Human Rights
Early on, we supported human rights work in Russia that focused on the protection of ethnic minorities and women's rights. After the fall of the Soviet Union, women were seen as especially vulnerable, given the collapse of social safety nets, their disproportionate level of unemployment, and lack of gender equality throughout the former Soviet Union. Free expression and accountability through a fair justice system and transparent political institutions were essential pillars of the work.
Thereafter, three key thematic areas emerged:
Strengthening the regional human rights ombuds institutions
Combating police abuse
Facilitating access to the European Court of Human Rights
We sought to support work beyond Moscow and St. Petersburg, reaching out to civil society groups in 10 of Russia's most populated regions. We also provided resources for grantee efforts to disseminate human rights information in the media.
Grantees worked to build civil society infrastructure and establish internal mechanisms for accountability as well as to support international treaties for human rights. Russia created expert councils for accountability as part of a ratification process for the Rome Statute, as part of its support for the International Criminal Court, but ultimately withdrew in 2016. Despite some gains, including policy reform for policing and stronger civil society, and tacit support for the European Court of Human Rights, the country's political atmosphere made progress difficult.
We added an exploratory initiative on Russia's Global Engagement that opened the door to several new grants to further international cooperation around the Arctic region, strengthen global nuclear security, and develop collaborative ties between Russian and American researchers and policy analysts. In 2014, we disbursed $5 million to 41 Russian organizations in the last full year of our grantmaking in Russia.
Our Legacy in Russia
Grantees created research partnerships, seeded institutions and fields, and strengthened civil society infrastructure. These connections and structures made lasting progress in fields of higher education, environmental protection, international security, and developing human rights protections.
Mounting challenges to the civic sector in Russia supported by Western foundations, culminating in the proposal by the upper chamber of the Russian parliament in July 2015 to include MacArthur on the list of so-called "undesirable organizations," led to the decision to close the Foundation's Moscow office. The office ceased all program work in August 2015.