Our Goal
More education for girls brings well-demonstrated benefits for them and related benefits for society as a whole. MacArthur's girls' secondary education grantmaking has sought to nurture learner-centered secondary education models that equip economically marginalized girls with a core set skills to help them attain livelihoods, resulting in more successful transitions to adulthood. The Foundation is winding down this five-year initiative, with grantmaking coming to a close in 2017.
Rationale
Girls with more years of education earn more, are more likely to participate in formal labor markets, and contribute to higher rates of economic growth at the national level. Additionally, these girls on average delay the onset of sexual activity, marry later, have smaller and healthier families, survive childbirth at higher rates, and are less likely to contract HIV. The Foundations' support has sought to help marginalized girls gain access to and remain in secondary school while also supporting both formal and non-formal education opportunities that will help them secure relevant livelihood skills (e.g. soft skills that promote higher order thinking such as problem solving and critical thinking; social skills such as communication and leadership; and entrepreneurial or technical skills).
As MacArthur winds down this program, we are pleased to see that by the end of 2017 we will have had significant impact toward the work's original objectives, which were to bring focus to the area of girls' secondary education, to spur innovation in the field, and to build knowledge about effective secondary education models.
In the remaining period of our involvement in the space, the Foundation will seek to maximize its impact in the field by investing largely through the Partnership to Strengthen Innovation and Practice in Secondary Education.
Background
In recent decades, increased primary level completion rates have increased demand for secondary education. However, at the secondary level, quality is often poor and participation rates continue to be extremely low, especially for economically marginalized girls. Globally, 34 million girls of lower secondary school age are not in school and in countries such as Nigeria, Uganda, and India, where our funding is focused, the difference in completion rates between the wealthiest and poorest girls is of great concern.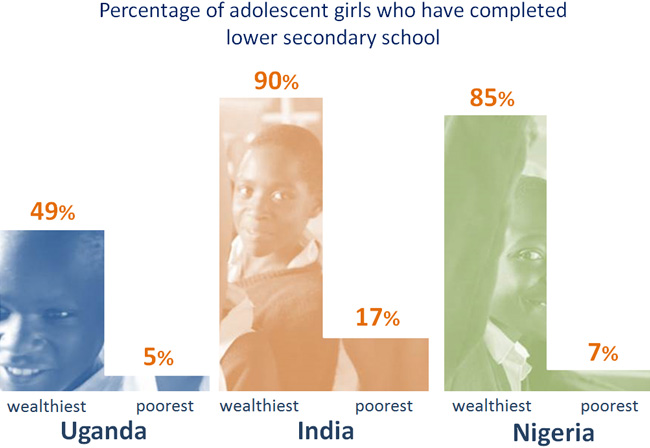 From the EFA Global Monitoring Report's World Inequality Database on Education (WIDE)
Due to these large gaps in completion rates and in view of the returns to more schooling for girls, the target population of the Girls' Secondary Education in Developing Countries program is economically marginalized girls who form part of the lowest income quintiles in their societies.
MacArthur's work is aligned with the objectives laid out by key global policy frameworks, including those of the UN Secretary General's Global Education First Initiative, the UN Special Envoy on Global Education, and the Global Partnership for Education. The Foundation's work responds to a particular challenge expressed by governments in countries where we work: high youth populations, dynamic labor markets, and youth leaving secondary school without acquiring relevant livelihood skills needed for success in formal and non-formal labor markets.
Governments in developing countries are thinking seriously about how to provide relevant secondary education on a large scale, yet at this level, less is known about which cost-effective interventions will increase demand, access, and retention as well as develop quality, relevant skills. To answer these questions there is a need to invest in and test innovative models that are responsive to local cultural contexts, build a strong evidence base of what works and what does not work to solve these problems, and how organizations can create clear pathways to institutionalization of innovative models within education systems.
Strategic Approach
MacArthur's grantmaking in this field reaches its target population of marginalized girls through funding for innovative learning models that help girls obtain employment-relevant 21st century skills via quality formal and non-formal learning opportunities. By improving the quality of education, the work seeks to increase girls' demand for and retention in secondary level education programs. Learning models are funded through four intervention phases:
Pilot Projects that are developing and testing new models or feasible approaches to identified barriers and challenges.
Expanding and Adapting Projects that are rigorously testing a developed model with a well-defined theory of change that has proven impactful and cost effective.
Scale-up Projects that have been piloted and rigorously tested and are ready to scale at a local, regional, or national level.
Research to address critical questions or evaluate promising programs and that has the capacity to advance innovation in secondary education. Research projects must have strong likelihood of influencing policy and practice.
We operate with the belief that the scale and complexity of the challenges in international secondary education and the range of involved actors, including public officials, civil society groups, multilateral organizations, private corporations, and foundations, requires a collaborative approach. MacArthur works in collaboration with other donors through the Partnership to Strengthen Innovation and Practice in Secondary Education.
Geographic Focus
The Foundation works on girls' secondary education in four countries: India, Nigeria, and Uganda, where funding complements other MacArthur investments in the areas of maternal health, human rights, and conservation. The Foundation also partners with others at the international level through the Partnership to Strengthen Innovation and Practice in Secondary Education.
Assessment
Evidence collection occurs throughout each phase of a project's development. The following successive project phases build upon the learnings of earlier phases:
Pilot Phase: Evaluations that allow organizations to improve their model, refine their theory of change, and reflect on what is and is not working.
Expanding and Adapting Phase: Rigorous research agenda for organizations that have replicated their model and have a promising pilot that has shown success over time.
Scale-up Phase: Researching the successes and challenges of organizations going to scale as well as their systemic impact.
Measures of overall programmatic success include:
girls' acquisition of livelihood relevant skills,(e.g. soft skills that promote higher order thinking such as problem solving and critical thinking; social skills such as communication and leadership; and entrepreneurial or technical skills)
reduction above baseline trends of girls' non-participation in secondary schooling, and
institutionalization of models that reach marginalized girls by government and other stakeholders
---
Updated September 2017