Our Goal
Through an enduring commitment, MacArthur is concerned about Chicago neighborhoods and the health and vitality of the city and region as a whole. The ten-year, more than $50 million New Communities Program has ended, with current activities focused on dissemination of its lessons for the field. Efforts to combat youth violence, promote economic development, and use information technologies to improve the functioning of government, strengthen the social sector, and enhance the quality of life likely will continue in some form, as the Foundation designs a new, more comprehensive and coordinated framework for leadership, grants, investments and related activities in its hometown.

Rationale
---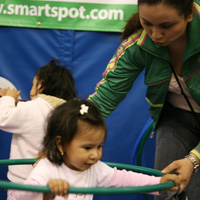 The Community and Economic Development program area seeks to create vibrant, economically diverse neighborhoods, cities, and metropolitan regions. Our approach is guided by the belief that coordinated neighborhood redevelopment efforts that are supported by strong organizational and institutional relationships will result in better use of resources, more effective programs, and, ultimately, improved quality of life. MacArthur is committed to rigorously testing this assumption to assess whether comprehensive community development approaches are effective ways to achieve measurable improvements for urban neighborhoods and their residents. The Foundation also looks for complementary investments to address critical threats to neighborhoods, such as the foreclosure crisis or gun violence, and to take advantage of opportunities, such as the increased flow of data to inform government performance and urban development.
Background
---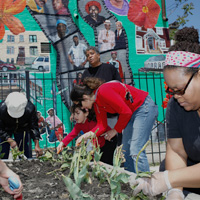 The Community and Economic Development program has for the past decade worked to improve conditions in neighborhoods and cities to increase economic diversity and opportunity for low-income individuals and families. Historically, the program's central initiative in Chicago has been the New Communities Program, a coordinated effort led by the Chicago office of the Local Initiatives Support Corporation. The Program mobilized diverse stakeholders and assets in selected neighborhoods to improve quality of life by addressing a comprehensive range of issues that included employment, health, housing, and violence reduction.
The Foundation has made complementary investments to address critical concerns in Chicago, including support for violence prevention efforts and an ex-offender reentry program. The Foundation also supported initiatives to increase access to data and to help organizations and the public use this information to plan, organize, design and implement programs, and advocate for policy change. Related to these local efforts, the Foundation supported a small number of national efforts to strengthen the field of community development and to spread promising practices across cities.
In 2012, the Foundation completed the first 10 years of the New Communities Program. An MDRC-led evaluation identified a number of measurable achievements, including large increases in resources and project volume in areas such as commercial revitalization, financial services, and youth development. In addition, MDRC found that most neighborhoods developed strong organizational "platforms"– networks of collaborating organizations working together to develop joint neighborhood improvement strategies, prioritizing work in a broad range of areas and holding each other accountable for collective results.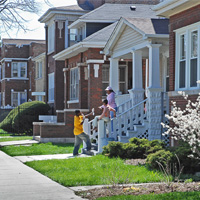 In Chicago:
With the Foundation's ongoing support, LISC/Chicago continues to provide resources to strengthen the management capacity of lead and partner agencies and to ensure that neighborhoods have the expert substantive, performance management, and analytical support to conduct intensive work in their chosen focus areas. Grants also will fund ongoing evaluations of the implementation and impact of the initiative.
Violence Prevention:
The Foundation supports efforts to reduce gun violence in Chicago. Support is provided for research and evaluations of interventions that seek to suppress violence, primarily through coordinated law enforcement and criminal justice responses, as well as efforts to test the effectiveness of promising strategies to prevent violence among at-risk, middle-grade youths.
Monitoring and Evaluation
---
We monitor the expected and proposed outcomes of all our grants through grantee reports and our interactions with grantees.
We also conduct rigorous evaluations of each program component and initiative within the Community and Economic Development portfolio. MDRC, a policy research firm with extensive experience in the community development field, led the comprehensive documentation and evaluation of the New Communities Program. In addition, evaluations are underway or planned for efforts to reduce violence and improve access to and use of information technologies.
---
Updated September 2017