The Internet Archive's mission is audacious: to provide people with "Universal Access to Knowledge." As digital librarians, we believe that's the great promise of the internet age. Public libraries have long been the great equalizers, providing people with access to books that were once limited to a privileged few. But access to libraries is still not equitable or universal. Many people are still unable to reach these physical resources. And the books they can check out online are limited to the most popular titles—not the most important ones.
With $100 million, we can provide libraries and learners with free, long-term access to 4 million books. From the blind and reading impaired to those unable to reach a public library, people will have more democratic access to knowledge when we bring almost a century of missing books online.
We have a chance to digitize the books too often omitted from our library shelves and bring them to a new generation of learners.
As a young MIT computer scientist, our founder, Brewster Kahle, had the idea to create the Library of Alexandria for the digital age—a comprehensive online library of the great works of humankind.

He knew that to create a comprehensive digital collection, we would need vast servers to store our collections and scanners to digitize books at scale. But technology isn't the only thing holding libraries back.
Today we are working with a growing team of advisors, including leaders in the library, education, technology, and legal worlds. They help us focus in on the important questions: Who are we serving? What problems can be solved by this vital piece of infrastructure in the open knowledge world? How does copyright law apply to lending modern books?
But what really drives us are readers like Eileen Alfaro. Her mother, Roxana, works with us. After school, this fifth grader does her homework at the Internet Archive. I started a summer reading program just for Eileen, so I know she loves to read but she has limited access to books. We have the chance to put four million of the best books into Eileen's hands. Forever. For free.
---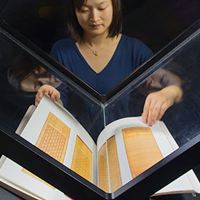 Providing libraries and learners free digital access to four million books
Learn more about the Internet Archive ›
---