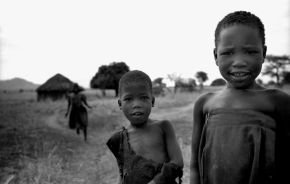 Foreword
Northern Uganda's brutal war, now in its twentieth year, has gained world attention in the wake of indictments by the International Criminal Court against Joseph Kony and four of his commanders in the Lord's Resistance Army (LRA). Bringing these war criminals to justice is an important step toward promoting the rule of law and reconciliation in Uganda. Yet the people of northern Uganda continue to suffer terribly. Over a million and a half now languish in camps for the internally displaced where they live in desperate poverty and despair. International aid agencies and local citizens groups have been providing crucial assistance in a difficult and risky environment. But they would be the first to acknowledge that more must be done to end this war and provide a brighter future for the people of northern Uganda.
Over the past nine months, our two institutions have worked together to explore other opportunities for concrete action in northern Uganda. From July to December 2005, the MacArthur Foundation dispatched assessment teams to Uganda to identify programmatic interventions that would give children and youth the tools to gain better access to income generating activities, schooling, human rights, and justice. Team members traveled extensively in the northern districts, interviewing displaced persons and former child soldiers. They toured reception centers for LRA returnees and visited "night commuter" shelters for children who leave their families at nightfall in search of security and safety in larger towns. They spoke with government officials, representatives of the International Criminal Court and nongovernmental organizations, traditional and religious leaders, and members of the international donor community. The result of this effort is a comprehensive, forward-looking plan that sets out major steps for developing formal and traditional justice mechanisms to deal with past human rights crimes, while recognizing the importance of investing in Uganda's greatest asset: the energy and creativity of its children and youth.
The recommendations set forth in this report provide concrete opportunities for donors to offer support to thousands of children and youth in northern Uganda and to set them on the road to a productive life. Even modest funding now will help local and national institutions provide critical services to those most in need and give young people access to educational scholarships, information technologies, and entrepreneurial programs. Looking to the future, the proposed Trust Fund for War-Affected Children and Youth will create a venue for donors to continue their support over the long term. By helping young people help themselves, the investment will serve current and future generations of northern Ugandans as they rebuild their war-ravaged communities and seek to provide a better life for their children.
We invite you to join us in this effort.
Jonathan Fanton
President
John D. and Catherine T. MacArthur Foundation
Allan Rock
Ambassador and Permanent Representative
Permanent Mission of Canada to the United Nations
March 2006
Download the PDF to read the full publication.