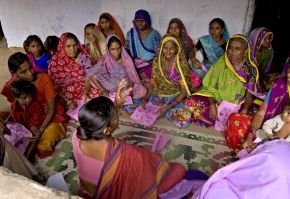 Continuing its tradition of encouraging creativity and building effective institutions to help address some of the world's most challenging problems, MacArthur announced today that eight organizations in five countries will receive the MacArthur Award for Creative and Effective Institutions.

Though these nonprofit organizations have diverse missions — from defending equality in the Nigerian legal system to transforming low-income Chicago neighborhoods to advocating for conservation of natural resources in the Caribbean — they have much in common. All are highly creative and effective organizations that have made a remarkable impact in their fields, driving significant change on a modest budget. Each organization will receive up to $650,000, a significant sum considering their annual budgets range from just $200,000 to $4.5 million. Groups will use their awards for a range of purposes, including development of training and research facilities, technology upgrades, and the purchase of new office space.

"These organizations may be small but their impact is tremendous," said MacArthur President Jonathan Fanton. "From protecting human rights to improving urban neighborhoods to conserving biodiversity, they are blazing new paths and finding fresh solutions to some of our most difficult challenges. The MacArthur Foundation has a long history of supporting organizations around the world like these that demonstrate the creativity, drive, and vision to make the world more just and peaceful."

The 2009 recipients of the MacArthur Award for Creative and Effective Institutions are:

In making these Awards, the Foundation does not seek or accept nominations. To qualify, organizations must demonstrate exceptional creativity and effectiveness; have reached a critical or strategic point in their development; have budgets of less than $5 million per year; show strong leadership and stable financial management; have previously received MacArthur support; and engage in work central to one of MacArthur's core programs.

The Foundation is well known for the MacArthur Fellows Program, which celebrates individual creativity. Each year, 25 people in diverse fields receive an unexpected phone call awarding them $500,000 with no strings attached. MacArthur also has a long history of strengthening institutions — from Human Rights Watch, now the largest U.S.-based human rights organization, to the World Resources Institute, the environmental think tank, to Creative Commons, which has changed the way we use and think about copyrights.

Winners of the MacArthur Award for Creative and Effective Institutions with operating budgets of $1 million or less receive $350,000. Those with operating budgets between $1 and $2.5 million receive $500,000. And those with operating budgets between $2.5 million and $5 million receive $650,000.

On June 11, 2009, awardees will be honored at a ceremony at MacArthur's headquarters in Chicago.