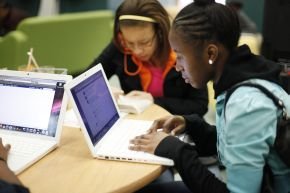 This white paper summarizes the results of a three-year ethnographic study, funded by the MacArthur Foundation, examining young people's participation in the new media ecology. It represents a condensed version of a longer treatment of the project findings.
The study was motivated by two primary research questions: How are new media being integrated into youth practices and agendas? How do these practices change the dynamics of youth-adult negotiations over literacy, learning, and authoritative knowledge? Results from the study — the most extensive U.S. study on teens and their use of digital media to date — show that America's youth are developing important social and technical skills online, often in ways adults do not understand or value.
Study authors: Mizuko Ito, Heather Horst, Matteo Bittanti, danah boyd, Becky Herr-Stephenson, Patricia G. Lange, C.J. Pascoe, and Laura Robinson, with Sonja Baumer, Rachel Cody, Dilan Mahendran, Katynka Martínez, Dan Perkel, Christo Sims, and Lisa Tripp.