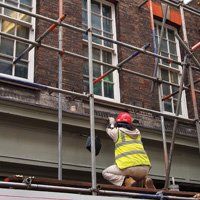 Total Awarded: $187 million in grants and loans
Total Grants: 158 grants and 48 program related investments (PRIs)
Duration: 2000 - 2020
Geographic Focus: United States
Background
Rents have long been unaffordable for a large share of low-income households, and have become increasingly unaffordable since 2000 for low- and middle- income families in virtually every U.S. metropolitan area. Contributing to the affordability problem was the fact that a significant number of subsidized rental homes were coming to the end of their initial subsidy period in the early 2000s with the risk that subsidies would not be renewed, potentially reducing the amount of affordable rental housing even more.
Responding to this escalating concern, in 2000 we launched the Window of Opportunity: Preserving Affordable Rental Housing initiative (WOO) to help secure a policy framework that would mitigate, and perhaps even reverse, the projected loss of affordable rental housing. Over 20 years, our investment will total $187 million in grants, loans and other financial vehicles to a wide range of recipients, including nonprofit developers, loan funds, networks of nonprofit owners of affordable rental housing, advocacy organizations, state and local government agencies, and researchers.
What We Evaluated
With a goal of changing how the housing industry, government, and financial markets value and support the preservation of affordable rental housing, Window of Opportunity aimed encourage policymakers, financial institutions, and practitioners to put rental housing and preservation on par with homeownership and new construction. We believed such a major shift would benefit low-income households and the communities in which they reside.
The purpose of the evaluation was to assess whether the Window of Opportunity initiative achieved its goals, as well as to provide preservation actors and policymakers with lessons learned about effective preservation practices.
What We Learned
The evaluation found that Window of Opportunity is by far the largest philanthropic initiative to preserve affordable rental housing, and it met a majority of its ambitious goals. The six main goals of the initiative were: (1) Increased standing of large nonprofit preservation owners; (2) Increased resources for preservation; (3) Greater number of groups involved in preservation; (4) Greater awareness of preservation; (5) New and more financing structures for preservation; and, (6) New regulations and legislation for preservation. We were successful or moderately successful in achieving all but two. The evaluation concluded that the initiative did not secure new federal incentives for preservation, and that it is not on track to preserve 300,000 affordable rentals by 2020.
Beyond identifying what was achieved (or not), the evaluation produced the following lessons about what facilitated the initiative's success and challenged achievement of its goals:
Facilitated Success
The relatively long duration of the initiative was critical in giving recipients and policymakers the "runway" to make long-term plans and to justify long-term capacity building investments for preservation.
Our long-term, low-interest loans (program-related investments, or PRIs) enabled nonprofit owners to build their businesses.
The competitive solicitations we issued encouraged local innovation while also helping form a national identity for preservation.
The funding model helped to create a self-reinforcing ecosystem for preservation. Our top-down approach of funding national networks of owners and national advocacy organizations combined with our bottom-up approach of funding regional and state partnerships was effective in facilitating both locally-derived innovations and scale by spreading those innovations across preservationists.
Foundation officers' content-area knowledge enabled grantees to "pick the right bets" in terms of which organizations would go on to innovate preservation practices.
Challenged Goals
Philanthropic initiatives that target a huge asset class such as housing are vulnerable to significant macro-economic forces that affect the broader market.
WOO's goal for a policy framework that would affect the preservation of 1 million affordable rental homes exceeded in scope WOO's primary, although not exclusive, focus on building up large nonprofit preservation owners, which make up a small segment of the affordable rental housing sector.
The general lack of housing-related legislative action in Congress during the WOO period significantly impeded our ability to meet our large policy goals.
Preservation lacks nationally agreed upon definitions, goals, data, or universally-cited champions, which inhibits the ability to take preservation to greater scale.
Data about preservation, while improved, does not yet provide comprehensive information at the property-level about preservation of unsubsidized and subsidized properties. This impedes fully quantification of the amount of affordable rental housing at risk of loss and the scope of the problem, which could help develop a broader political coalition that could drive greater federal action.