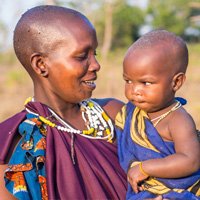 Total Awarded: $2.2 million
Total Grants: 7
Duration: 2013 - present
Geographic Focus: Nigeria
Background
Since 2013, MacArthur has funded a portfolio of seven 3-year grants in Nigeria focused on strengthening government accountability to maternal health, using four accountability strategies – promoting transparency in maternal health budgeting, supporting legal approaches, improving media coverage on the topic, and helping to establish and support maternal death review committees. The portfolio spans federal, state, and local levels; 12 states and the Federal Capital Territory (FCT), and five geopolitical zones. The Foundation prioritized a learning-focused evaluation process for this portfolio, and commissioned EnCompass LLC to refine the portfolio's theory of change, conduct baseline and midline evaluations, and strengthen grantee organization's capacity to monitor their grants.
What We Evaluated
This midline evaluation report builds on the portfolio's baseline evaluation to assess the progress of its activities to date and identify what grantees should do more of, less of, or differently in the remaining year of their grants to ensure grant and portfolio effectiveness. The evaluation team used a mixed-methods approach using qualitative stakeholder data, document review, and analysis of grantee monitoring data. The team collected data in August/September 2015 in the same eight states and the FCT reached in the baseline, and conducted 117 interviews and 21 focus group discussions.
What We Learned
Civil society coordination and advocacy for maternal health accountability have increased since baseline, and there is more collaboration and cooperation between civil society organizations (CSOs) and the government.
Maternal Death Surveillance and Review (MDSR) committees have been formed and are functioning in the FCT and Lagos. Committees are meeting, reviewing maternal deaths, and engaging in awareness creation and sensitization.
Grantee organizations have influenced the quality and volume of maternal health news produced by journalists, as well as the frequency of reporting.
The grantees work has strengthened CSOs' ability to advocate for increased budgets for maternal health. However, health and maternal health budget allocations have not changed much in the past year in FCT, Gombe, Kano, and Lagos States, and budgetary allocations have dwindled in Jigawa State.
Between baseline and midline, some pending bills related to maternal health have passed into law, while others are receiving greater attention from legislators. However, there are differing opinions between policymakers and others about any improvement in implementation of the free maternal and child health policy since baseline, and there was limited agreement across stakeholders on whether legislative committee oversight has improved at midline.
It remains uncommon for maternal health cases to be brought in front of courts. Such cases are constrained by apathy to litigation, lack of awareness of rights, fear of victimization, fatalism, culture/religion, and perceived cost. Typically, alternative means are used to seek redress.