Contents
In Focus: Preserving Affordable Rental Housing
From the Field: Justice Delivered in Russian Police Torture Case
Newsroom: A University's New Home
Newsroom: Low-Tech, High Impact
Newsroom: MacArthur's Work in Russia
In Focus: Preserving Affordable Rental Housing
Recent studies have found that decent, stable housing improves the ability of individuals to get and keep jobs, increases psychological and physical health, and leads to better social behavior and school achievement among children. That is why the MacArthur Foundation is so deeply committed to and invested in ensuring an affordable and stable supply of rental housing, devoting more than $200 million to this priority in this decade.
With so many eyes focused on home sales and mortgage rates, it is easy to forget that 34 million U.S. households—one-third of all Americans—currently rent. The fact is, nearly all of us are renters at some point in our lives.
The rental market is critically important, but the stock affordable rental housing is on the decline. A new MacArthur-funded report by Harvard University's Joint Center for Housing Studies shines light on the significant loss of America's affordable rental housing stock. For every new low-cost unit that is built, two are razed, abandoned, or turned into condominiums or high-end rentals. Over the past decade the nation has lost two million affordable rental homes as markets soared, federal subsidies waned, owners divested, and aging properties deteriorated beyond repair.
The nation's rental housing supply is also aging rapidly. Properties built before 1980 account for three-quarters of the stock, meaning that the vast majority of rental united in the United States are more than 20 years old and increasingly in need of reinvestment and repair.
Vibrant, competitive cities require stable and affordable housing—including rental housing. Preserving affordable rental housing is sensible public policy. On average, acquiring and improving an existing rental apartment costs half as much as building a new one. To increase the net supply of affordable housing, new construction must be accompanied by the preservation of existing properties. Only by combining these strategies can we meet our nation's growing need for decent homes at a reasonable cost.
The Foundation's national initiative to preserve affordable rental housing, Window of Opportunity, provides grants and low-cost loans to fuel preservation by 15 national and regional nonprofit housing owners and specialized lenders. To date, these organizations have directly supported or carried out preservation transactions involving over 30,000 affordable rental homes; the goal is to reach at least 100,000 units by 2010. The Foundation also funds housing research and policy development, including studies to identify local, state or federal policies that should be replicated or expanded.
MacArthur is supporting in-depth preservation initiatives in New York City and Chicago. In New York, MacArthur was an early contributor to a $200 million fund that will provide access to below-market financing to acquire affordable rental properties and vacant land on which new housing can be developed. In Chicago, MacArthur is a leader in the Preservation Compact, an initiative of the Urban Land Institute, to develop an action plan for housing preservation in Cook County.
There are many other new preservation efforts nationwide. The National Housing Trust documents more than 40 state and local housing preservation initiatives, compared to just six projects four years earlier. New York City just announced an ambitious ten-year commitment to preserve 73,000 affordable-housing units for 200,000 low- and moderate-income residents. At the federal level, the need for preserving rental housing in rural areas is receiving significant attention.
Much more work is needed if we are to make significant headway improving the state of the nation's rental housing, a key goal of MacArthur grantmaking.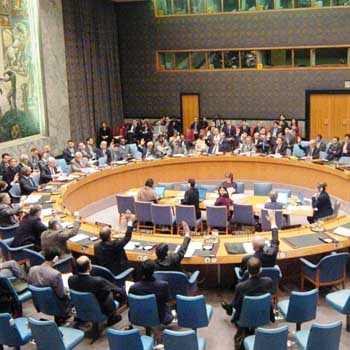 From the Field:

Justice Delivered in Russian Police Torture Case
In a landmark decision to discourage child marriage, India's Supreme Court ruled that all marriages must be registered. Though the country's law already forbids the marriage of girls under 18 and boys under 21, marriages involving children have often gone undetected in India due to lack of government oversight. With MacArthur support, the Socio-Legal Information Center (SLIC) has led efforts to focus the attention of policymakers and the judiciary on the problem of child marriage. Later marriages delay first births and, therefore, can reduce population growth and maternal mortality, key MacArthur grantmaking goals.
Newsroom

: A University's New Home
Though the government of Belarus shut down the European Humanities University (EHU) in 2004, the school's new campus in-exile in Lithuania, supported by MacArthur, has now been officially accredited by the Republic of Lithuania. This new status allows the EHU to grant diplomas and degrees recognized in the European Union and to receive funding from the European Commission and the Nordic Council without special dispensation. MacArthur's funding for the EHU is part of its strategy to strengthen universities and scholarly infrastructure in the Russian Federation and the region.

Low-Tech, High Impact
A simple, low-tech garment shows promise in preventing death among women who give birth in many Third World countries, according to a new MacArthur-supported study published in the British Journal of Obstetrics and Gynecology. Findings indicate that the reusable, inexpensive "anti-shock" suit could slow obstetrical hemorrhaging due to childbirth, a leading contributor to maternal deaths worldwide. Committed to helping reduce maternal mortality and morbidity worldwide, the Foundation is providing an additional $1.1 million for further research. Read the press release.
MacArthur's Work in Russia
"The end of Communist rule in Russia and Eastern Europe, the end of the Cold War, and the breakup of the Soviet Union were global events of far greater significance than anything else that happened since 1945," says co-Director of MacArthur's Initiative in the Russian Federation John Slocum. In recent remarks, he discusses MacArthur's efforts to help strengthen the Russian scholarly community and advance legal reform and human rights.