Contents
In Focus: Bringing Science to Bear on Security Policy
From the Field: Justice Delivered Russian Police Torture Case
Newsroom: Illinois: "Model" State for Juvenile Justice Reform
MacArthur Supports Research on Internet Censorship
Can Proliferation Be Stopped?
In Focus: Bringing Science to Bear on Security Policy
The MacArthur Foundation has been involved in peace and security issues since the 1980s, when Cold War danger inspired our first grants to restrain the nuclear arms race. The Foundation supported research and track-two diplomacy between U.S. and Soviet officials and nuclear scientists, which led, among other things, to the Comprehensive Test Ban Treaty.
With the collapse of the Soviet Union, the primary nuclear threat shifted to concern that unsecured stocks of nuclear weapons material might fall into the hands of terrorists or so-called 'rogue states.' Correspondingly, the Foundation's security program expanded to address the threat of 'loose nukes.' Here, the Foundation assisted in the development of the conceptual framework for Cooperative Threat Reduction programs that have helped Russia and other states of the former Soviet Union eliminate and secure nuclear weapons and fissile materials. These programs have successfully deactivated almost 7,000 nuclear warheads, destroyed 1,500 nuclear missiles and their silos, and secured hundreds of tons of nuclear bomb material.
Nuclear material security remains at the heart of our grantmaking strategy, but events since 2001 helped stimulate our thinking about other emerging challenges to international peace and security, including the risks associated with dangerous pathogens and new biotechnology, the security of cyberspace, and development of technologies that threaten security in outer space. These challenges, like the dangers posed by nuclear weapons, require scientific and technical expertise to help inform public policymaking.
Unfortunately, the number of independent scientists, engineers, and other specialists in the U.S. and other key countries, including Russia, China, India and Pakistan, who can provide dispassionate and expert analysis is relatively small. In fields like biology, computer science, nanotechnology, and astrophysics, there is little tradition of technical security analysis in the public interest. Unlike nuclear risk reduction – helped by treaties, technical monitoring systems, and the haunting memory of Hiroshima – the regimes to prevent bioterrorism and cyber-warfare barely exist or are not well known in most university science departments.
It is the need for independent, technically-trained science and security experts and programs to sustain them that led MacArthur to launch the Science, Technology, and Security Initiative – a $50 million commitment to advance homeland and international security by:
• Strengthening university-based centers of science, technology, and security;
• Expanding the pool of independent scientists, engineers, and technical experts who provide expertise to policymakers;
• Matching the needs of policymakers with the expertise of science and security specialists.
Through the Initiative, MacArthur supports nine U.S. centers that train new scientists and maintain interdisciplinary research programs. This funding has already supported 11 new faculty positions, 12 new senior research posts, and 160 mid-career, doctoral, and pre-doctoral fellowships in science and security at such universities as Harvard, Princeton, Georgia Tech, and the University of Maryland. At the same time, grants to policy research organizations such as the American Association for the Advancement of Science engage scientific experts in the policy process.
The names and numbers do not convey the policy impact of this work. Researchers are confronting some of the most pressing security problems of our time, including creating more effective policies and practices to secure nuclear stockpiles, reactors, and ports of entry, and strengthening public infrastructure and responses to terrorism. For example, Stanford University researcher Larry Wein and his colleagues looked at the response scenarios in the event of an airborne anthrax attack to identify the point of government intervention that would save the most lives. Their primary recommendation was that rapid antibiotic distribution would be critical. In an op-ed in The Washington Post, Wein proposed to deliver antibiotics using police-escorted postal workers. This piece led to a multi-agency effort that resulted in several U.S. cities, including Washington D.C., testing or adopting such a system.
Sound security policy requires scientific and technical expertise, which the MacArthur Foundation's Science, Technology and Security Initiative is helping to cultivate.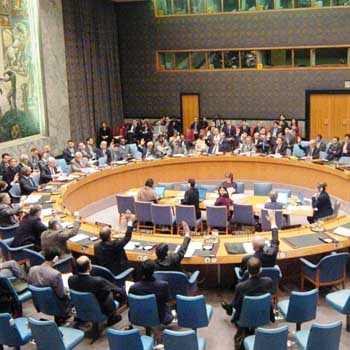 From the Field: Justice Delivered in Russian Police Torture Case
The European Court of Human Rights delivered its first verdict in a case concerning Russian police torture. In the case of Mikheev v. Russia, the Court held that the Russian Federation had violated the European Convention on Human Rights' prohibition of torture and the right to an effective remedy. The judgment is largely the result of work carried out by several MacArthur grantees, including Nizhnii Novgorod Committee Against Torture and the London-based INTERIGHTS. A group of Russian and international NGOs, including REDRESS, intervened in the case as third parties to further highlight Russia's poor record on police torture. Russia's official representative at the court called the case a "real tragedy" and said such cases should be prevented in the future. The MacArthur Foundation has been a leader in the area of human rights for over 25 years, strengthening the global infrastructure for human rights through support for organizations that hold countries accountable to their constitutions and international agreements and seeking to insert human rights concerns in national and international policymaking.
Newsroom: Illinois: "Model" State for Juvenile Justice Reform
The MacArthur Foundation has selected Illinois as one of four states to participate in its national initiative to accelerate promising models for juvenile justice system reform. Illinois will join Louisiana, Pennsylvania, and Washington in the Models for Change initiative because of its strong juvenile justice leadership, potential for collaboration, ongoing reform efforts, and readiness for change. MacArthur supports research, model programs, policy analysis, and education to promote more effective juvenile justice systems across the country. Read the press release.
MacArthur Supports Research on Internet Censorship
The MacArthur Foundation has awarded $3 million to the Berkman Center for Internet & Society to improve and expand its study of state-sponsored Internet filtering worldwide through the OpenNet Initiative. OpenNet has produced reports on state-mandated filtering in China, Iran, and other nations. These reports combine data derived from technical means with extensive contextual research to map rich snapshots of the state of the Internet. Read the press release.
Can Proliferation Be Stopped?
"Iran has shown no signs of backing down," said MacArthur Vice President Gary Samore in an address to the Delhi Policy Group. Read the speech.