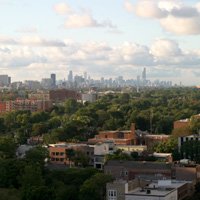 Total Awarded: $50 Million
Total Grants: 1
Duration: 2002 -2012
Geographic Focus: Chicago, IL
Background
The Local Initiatives Support Corporation (LISC) implemented the New Communities Program, a flagship investment in the MacArthur Foundation's work to understand the dynamics of cities and neighborhoods as a mechanism for addressing major urban challenges. The program mobilized diverse stakeholders and assets in 14 Chicago neighborhoods to improve quality of life by addressing a comprehensive range of issues that included employment, health, housing, and violence reduction.
What We Evaluated
Commissioned by MacArthur and conducted by MDRC, this evaluation describes the successes, challenges, and implications of the Foundation's funding of local community development in Chicago. Qualitative data was drawn from nearly 400 interviews and observations to develop case comparisons among neighborhoods and formal analysis of themes related to practitioner strategies, local context, and implementation outcomes. Project reports from practitioners were coded and analyzed, and geospatial analyses were conducted to determine where within neighborhoods investments were targeted. In addition, MDRC developed a comprehensive, longitudinal database of neighborhood conditions throughout the city of Chicago to document community trajectories over time and to understand the implications of events, such as the Great Recession, for local neighborhoods.
What We Learned
The evaluation showed that nearly 850 varied improvement projects and over $900 million in total funding were reported among the 14 neighborhood areas over 10 years.

The program succeeded in connecting many groups to citywide and national funders and resulted in partnerships across neighborhoods.


Neighborhoods with multi-issue, high-capacity lead agencies and strong local partners tended to leverage the most additional funds.

The program helped to improve collaborative partnerships among local agencies.


Interorganizational relationships deepened among community groups over the course of the initiative in neighborhoods where trust and cooperation were better established at the start of the program.



It was rare for interorganizational relationships to promote collaborative, coordinated programming across the many projects supported by the program, and for program networks to add value to the implementation of small individual projects.