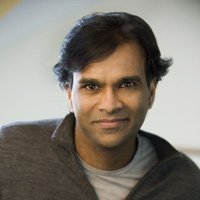 Sendhil Mullainathan, a professor of economics at Harvard University, has been elected to serve on the MacArthur Foundation Board of Directors.
Mullainathan was, until recently, Assistant Director of Research for the Consumer Financial Protection Bureau. He is also founder of ideas42, a non-profit that applies insights about people from behavioral economics to create novel policies, interventions, and products. He was named a MacArthur Fellow in 2002.
"Sendhil will be a great asset to the Foundation," said Board Chairman Marjorie Scardino. "His work in many strains of economics, his perspective on technology, and his focus on poverty and discrimination will help us see our work differently, and his tendency toward the woods rather than the trees will help us stick to our priorities."
Mullainathan is a Research Associate at the National Bureau of Economic Research, a Founding Member of the Poverty Action Lab, and a Board Member of the Bureau of Research in the Economic Analysis of Development. He has been published extensively in top economics journals including the American Economic Review, Quarterly Journal of Economics, and Journal of Political Economy.
"Sendhil's research into the human choices behind poverty, corruption, and discrimination will provide critical context as we work to ensure that MacArthur's grantmaking has significant impact in helping to address some of the most important societal challenges," said MacArthur President Robert Gallucci. "I am confident that his inquisitive nature and creativity will help and challenge the Foundation in many new ways."
MacArthur's Board sets policies and strategic direction for the Foundation, approves grantmaking areas, initiatives and grants, and oversees investments and the governance process through the work of its committees. Mullainathan joins 11 other members of the Foundation's Board of Directors.
The MacArthur Foundation supports creative people and effective institutions committed to building a more just, verdant, and peaceful world. In addition to selecting the MacArthur Fellows, the Foundation works to defend human rights, advance global conservation and security, make cities better places, and understand how technology is affecting children and society.