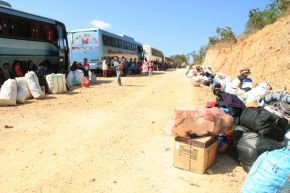 For five years, the MacArthur Foundation has been the largest non-governmental donor to the Global Forum on Migration and Development, helping to ensure broad participation by civil society groups at this annual gathering of more than 140 governments. The Forum seeks to encourage international cooperation and information exchange to increase the benefits of migration for countries of origin and destination as well as for migrants themselves.
Reflecting its support for efforts to improve the governance of international migration, MacArthur today announced the following four new grants totaling over $1 million.
The International Catholic Migration Commission (Geneva) received $375,000 to help establish an office to coordinate among diverse civil society groups and the Swiss government, which is hosting this year's Forum. The office will ensure continuity and institutional memory from one Forum to the next.
Migrants Rights International (Geneva) was awarded $300,000 to form a new Global Coalition on Migration, which will seek to enhance engagement by civil society groups around the Forum and other intergovernmental discussions of international migration issues.
The UN Department of Social and Economic Affairs (New York) will use its grant of $316,000 to support the activities of the Special Representative of the Secretary-General on International Migration and Development relating to the Global Forum on Migration and Development.
UN Women (New York) received $75,000 to co-organize regional consultations in Ghana and Jamaica focusing on legal and social protections for migrant domestic care workers. Such workers were identified during the 2010 Global Forum on Migration and Development meeting in Puerto Vallarta as a particularly vulnerable group at the interface of migration and development.
"Since 2007, the Global Forum on Migration and Development has done much to enhance understanding and cooperation around international migration issues with the ultimate goal of improving the lives of migrants," said John Slocum, MacArthur's Director of Migration and Human Mobility. "As the Forum matures, MacArthur's latest round of support is aimed at sustaining the engagement and impact of civil society in the Forum and in migration issues more broadly."
In addition to its support for the Global Forum on Migration and Development, MacArthur provided assistance for the World Migration Report published by the International Organization for Migration, as well as a Global Code of Practice on the International Recruitment of Health Personnel adopted by the World Health Organization. MacArthur supported a Commission on International Migration Data for Development Research and Policy, which has published a widely disseminated set of recommendations for producing better migration data. MacArthur also supported the development of a Voluntary Code of Ethical Conduct for the Recruitment of Foreign-Educated Nurses to the United States.