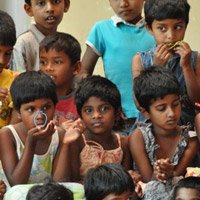 The MacArthur Foundation, a supporter of independently produced film and video for more than 30 years, announced 13 grants totaling more than $1.6 million for documentary film projects. The documentaries address a range of important issues, including justice reform, global conservation and immigration.
"MacArthur's media grantmaking supports work that combines exceptional storytelling with in-depth journalism to illuminate important yet often under-reported topics," said Kathy Im, MacArthur Director for Media, Culture, and Special Initiatives. "This year's film grantees, who include nominees and winners of the Academy Award, Emmy Award, and other prestigious honors, bring fresh perspective to domestic and international social issues through approachable, engaging stories."
The Foundation received nearly 300 proposals in response to its most recent open call for independent documentary film proposals. After an extensive review process aided by external reviewers, the following 13 projects were chosen for support:
American Promise, a documentary film chronicling the school experiences of two African American boys from kindergarten to twelfth grade in New York City, by Michele Stephenson and Joe Brewster. Rada Film Group ($200,000).
Citizen Corp, a documentary film exploring the post-Citizens' United political era and the impact of unlimited spending on the American democratic process, by Carl Deal and Tia Lessin. Bayside Productions ($100,000).
The Cooler Bandits, a documentary film examining the impact of mandatory sentencing laws and long-term incarceration, by Julie Janata and John Lucas. Justice Policy Institute ($150,000).
E-Team, a documentary film following three human rights investigators in some of the most volatile regions of the world including Syria and Libya, by Katy Chevigny and Ross Kaufman. Arts Engine ($100,000).
The Homestretch (working title), a documentary film providing an intimate look into the lives of homeless students in the Chicago Public School system, by Kirsten Kelly and Anne de Mare. Spargel Productions ($200,000).
In the Middle, a documentary film about the conflict that arises on a small Italian island with the arrival of 55,000 North African refugees and migrants following the Arab Spring, by Lorena Luciano and Filippo Piscopo. Film2, Inc. ($50,000).
Long Story Short, a participatory documentary merging multiple forms of media to present personal stories from hundreds of people living in poverty in the San Francisco Bay Area, by Natalie Bookchin. Mass Produced Media ($100,000).
Marmato, a documentary film about the impact that a multinational company has on a small subsistence gold mining community in Colombia, by Mark Grieco. Calle Films ($50,000).
Rank & Race: Change at a California Prison, a documentary film about institutionalized racial segregation in prisons and an effort to change the system, by Noel Schwerin. Backbone Media ($150,000).
Solarize This, a documentary film that looks beyond the climate change debate and explores how a green economy may be built, through the stories of three unemployed Americans seeking to retool at a solar jobs training program in Richmond, CA., by Shalini Kantayya. 7th Empire Media ($125,000).
The Truth About Trees, the first film series and interactive web portal about the significance of trees to society, ecology, and the environment, by Ross Spears. James Agee Film Project ($100,000).
The Undocumented, a documentary film examining a little-known consequence of U.S. immigration policy: the death of more than 2,000 illegal border crossers since 1998 along the U.S.-Mexico border, by Marco Williams. Hiptruth Productions ($200,000).
Untouchables, a documentary film following four young people in India's Dalit, or "Untouchable," caste as they become the first members of their families to receive an education, by Vanessa Roth. Big Year Productions ($100,000).
The next open call for documentary film proposals will be open soon.