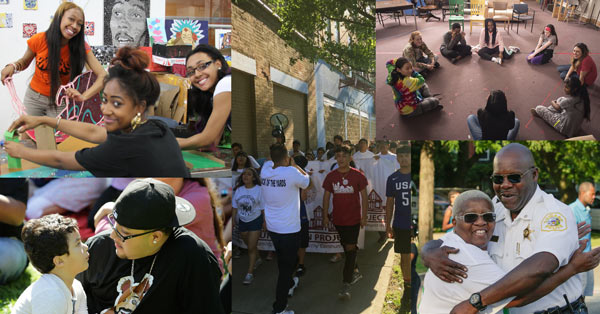 MacArthur today announced nearly $10 million in new grants to Chicago organizations to help them grow stronger or expand and to prevent gun violence.
"MacArthur is committed to Chicago's diverse neighborhoods and its people, as we have been for decades," MacArthur President Julia Stasch said. "We want our hometown to be a city where opportunity is equitable and justice can thrive. To make that aspiration a reality we are investing in the strength and growth of nonprofit organizations that focus on justice, provide critical services, build communities, look at persistent problems in new ways, and support a new generation of leaders."
The following groups were awarded two- or four-year Community Capital Grants to fuel innovation, build capacity, or pursue opportunities for growth:
In the future, the Foundation will identify an annual focus, which may be extended based on circumstances, for these Community Capital Grants. In 2018 and possibly beyond, we anticipate awarding Community Capital Grants to organizations whose work increases safety, peace, and justice in Chicago communities.
Justice is a central tenet of the Foundation's work. In Chicago, MacArthur supports efforts to prevent violence, reduce incarceration, build trust between police and the communities they serve, and improve the effectiveness and legitimacy of the local criminal justice system. New grants totaling $3 million continue a long-term effort to help prevent violence and reflect MacArthur's investment as part of a timely, issue-focused civic partnership.
As a participant in the 30-member Partnership for Safe and Peaceful Communities a coalition of philanthropic organizations committed to reducing gun violence in Chicago, $2.6 million over one year to support programs operated by local, direct service organizations to intervene with potential victims and shooters through a variety of approaches, including street outreach and violence interruption, connection to support services, and jobs. Funder members of the Partnership support several broad strategies—direct services, police reform and legitimacy, and gun policy—to help prevent and reduce violence.
$100,000 over one year in support of The Chicago Fund for Safe and Peaceful Communities, also a strategy supported by some members of the Partnership for Safe and Peaceful Communities, which has provided resources to 120 local organizations in 17 neighborhoods for their efforts this summer to build community cohesion and create the conditions that help prevent violence. This Fund was originally established in 2016, with MacArthur contributing $100,000 to a total budget of 500,000. The Fund made 70 grants in the late summer of 2016.
$300,000 over one year for The John Jay College of Criminal Justice to support the Chicago Violence Reduction Strategy, which coordinates law enforcement, community partners, and service providers in an approach that helps them understand which individuals are most likely to commit, or become a victim of, gun violence.
Building on MacArthur's four-decade commitment to Chicago, the grants announced today reflect the Foundation's new approach to helping achieve a better Chicago for all. The strategy aims to help strengthen local organizations, support civic partnerships on timely issues, invest in initiatives to build vital communities, and advance diverse and influential leaders. Additional grants will be announced later this year.
"In 2016, MacArthur spent several months listening to individuals and organizations representing a wide variety of issue areas, populations, sectors, and neighborhoods, with a goal of understanding their perspectives and needs," said Chicago Commitment Director Tara Magner. "Those conversations guided our thinking and directly informed key elements of our Chicago strategy. The awards we are announcing today represent our first investments in a new strategy to help make Chicago a more just place where neighborhoods are strong and residents thrive."