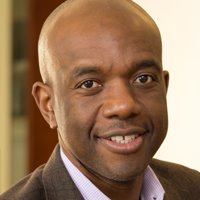 Dr. James Manyika, a director of the McKinsey Global Institute and senior partner and board member at McKinsey & Company, has been elected to serve on the MacArthur Foundation Board of Directors, effective March 12.
Based in Silicon Valley for 20 years, Manyika has worked with many of the world's leading technology companies and their chief executives on strategy and innovation. He has led research on the global economy, including growth and productivity, technology and the digital economy, automation and the future of work, globalization, and competitiveness.
"We are pleased to have James join the MacArthur Board," said Board Chairman Marjorie M. Scardino. "His insights into the global economy and technology will be invaluable to the Board as it continues to guide the Foundation's work addressing some of the world's most pressing issues at a time when the world is changing rapidly."
Manyika was appointed by President Obama to serve as vice chair of the President's Global Development Council at the White House, and by the Secretary of Commerce to the Digital Economy Board of Advisors. He serves on the boards of The Council on Foreign Relations, the Aspen Institute, the Oxford Internet Institute, MIT's Initiative on the Digital Economy, UC Berkeley's School of Information, and Harvard's Hutchins Center, including the Du Bois Institute for African and African-American Research. He is a non-resident senior fellow of the Brookings Institution and a member of the Bretton Woods Committee. He recently co-authored the book, No Ordinary Disruption: The Four Global Forces Breaking All the Trends.
"James' expertise will help MacArthur navigate the frontiers of technology across all of our interests and the paramount need to be vigilant about ethics, rights, privacy, inclusion, and public benefit," said MacArthur President Julia Stasch.
Manyika served on the engineering faculty at Oxford University and is a fellow of Balliol College, Oxford University. A Rhodes Scholar and a Smith Rippon Senior Scholar, he holds D.Phil, M.S., and M.A. degrees from Oxford in robotics and engineering, mathematics, and computer science, and a B.S. degree in electrical engineering from the University of Zimbabwe.
Manyika joins 10 other members of the Foundation's Board of Directors. MacArthur's Board sets policies and strategic direction for the Foundation; approves grantmaking areas and initiatives; approves grants and impact investments above specified amounts; and, through the work of its committees, oversees investments, the budget, institutional policy, and the audit process.