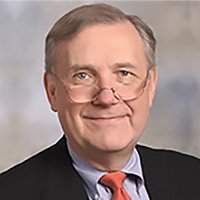 About Jack Fuller
MacArthur board member Jack Fuller passed away on June 21, 2016.
Jack Fuller was editor and publisher of the Chicago Tribune and president of Tribune Publishing Company. From 2001 until he retired in 2004, he was a member of Tribune Company's board of directors. In 1986 he won a Pulitzer Prize for his editorials in the Chicago Tribune on constitutional issues. Jack left Yale Law School (where he was a classmate of Hillary Rodham and Robert Reich) to volunteer for military service. He was an enlisted man in the Army in Vietnam and served for two years as a special assistant to Attorney General Edward Levi. He was the author of seven novels and two books of non-fiction, News Values and What is Happening to News: The Information Explosion and the Crisis in Journalism. Mr. Fuller was a trustee at the University of Chicago. On the Board of the John D. and Catherine T. MacArthur Foundation, where he served since 2005, Mr. Fuller was chair of the Budget and Compensation Committee and also a member of the Audit and Institutional Policy Committees.
Statement of Marjorie Scardino, MacArthur Board Chairman
Jack brought to the MacArthur Board a humanist perspective and an insistence that the Foundation's work always improve people's lives. This view has shaped significantly MacArthur's work in all areas; his perspective and insight were particularly powerful drivers in our thinking about global conservation and sustainable development, and the threats of climate change.
Drawing on his deep experience and thoughtful analysis, he always reminded us of the power of journalism to inform, engage, and connect people. Jack insisted that there is not "traditional" journalism and "new" media, only good journalism and bad journalism.
Jack knew the world but cared mostly deeply about and was an advocate for Chicago, who always looked for ways to support the city and improve the lives of those residents most in need. In Board deliberations, Jack always thought carefully, chose words purposefully, contributed meaningfully, and never backed down on issues of principle.
Jack was a master craftsman and his tools were words. He had a keen eye for just the right word, and its power to convey the most impactful message. He was responsible for the "verdant" in MacArthur's now distinctive tagline: "committed to building a just, verdant, and peaceful world."
Jack recognized the power of human stories and liked telling them. Often using light stories to make a compelling point, he conveyed concern about a loss of human potential or the destruction of his beloved natural environment.
Deeply committed to a free and functional press, healthy and productive human beings, and a truly verdant planet, Jack's special love was an evening filled with great jazz.