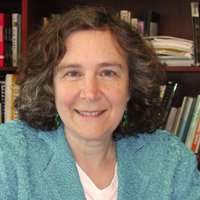 Elspeth Revere, Vice President for Media, Culture and Special Initiatives, will leave MacArthur at the end of November, after more than 24 years of service.
Revere's responsibilities include the arts in Chicago, support for journalism and media, the MacArthur Awards for Creative and Effective Institutions, discovery grants, and a changing set of special initiatives – currently focused on strengthening American democracy. She first joined the Foundation as a program officer in 1991.
In her many years at the Foundation, Ms. Revere has designed and implemented grantmaking initiatives on topics ranging from human rights to copyright to community service for young adults. She also serves on the MacArthur Foundation's senior leadership group.
In a note to MacArthur staff, Revere wrote, "There is no good time to 'exit' a job as engaging as mine has been, and for that reason I have stayed for over 24 years! MacArthur has provided me with the opportunity to work with wonderful colleagues within the Foundation and inspiring leaders of nonprofit organizations in fields as varied as international human rights and documentary film."
"I am so thankful to Elspeth for all she has done for the Foundation and our grantees over so many years. She is the consummate grantmaker, always listening, curious to learn more, and a valued colleague across the entire Foundation," said MacArthur President Julia Stasch. "We are fortunate to have a strong MacArthur team in place to enable our seamless and continued commitment to 300 arts and culture grantees in Chicago, to provide creative thinking and sustained support to public interest journalism, and to address other critical areas of work Elspeth currently leads. "
Revere helped refresh two long-standing areas of MacArthur's work: its support for journalism and media, which makes grants to nonprofit investigative journalism organizations and documentary films that explore important social issues; and arts and culture in Chicago, which supports the vital cultural community by providing essential operating support grants to 300 arts organizations as an expression of MacArthur's civic commitment to Chicago.
She has also developed new programs, including the MacArthur Awards for Creative and Effective Institutions, which provides funds for cash reserves, endowment, and other institution-strengthening purposes to MacArthur grantee organizations in the many areas of its work, and discovery grants, which is a cross-foundation collaborative program to identify and support promising ideas in fields outside of MacArthur's regular grantmaking.
Revere's most recent work has been an initiative designed to strengthen the institutions of American democracy, in order to ultimately produce better public policy. The initiative supports work to protect voting rights, modernize the system of voting administration, and reduce the impact of money in politics.