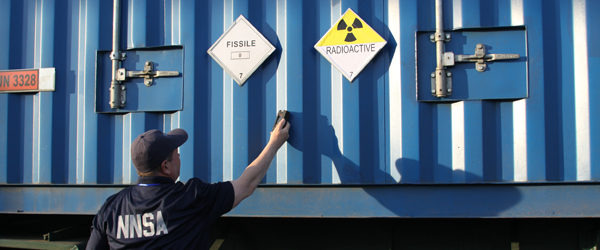 Following a competitive request for proposals, Carnegie Corporation of New York and MacArthur today announced grants to 11 organizations to support projects aimed at reducing nuclear risk through innovative and solutions-oriented approaches.
Projects receiving funding include:
a collaboration between a research institute and a gaming organization to apply virtual reality tools to the challenge of verifying nuclear nonproliferation and arms-control commitments;
an outreach campaign to engage members of Congress and rebuild bipartisan leadership on nuclear security issues; and
a project to engage the generations that came of age after the Cold War by reimagining Civil Defense with a focus on new media tools.
"We sought out projects that could help reduce nuclear risk by demonstrating new approaches to existing problems, forging new and important collaborations, and producing ideas that governments and industry could act on," said Emma Belcher, Director of MacArthur's Nuclear Challenges program. "This innovative group of grantees represents those goals, and we look forward to seeing the impact of their work on this critical issue."
"Nuclear terrorism is preventable if we can lock down and account for all weapons-usable materials," said Carl Robichaud, program officer in International Peace and Security at the Carnegie Corporation. "How do we sustain and build on progress from the nuclear security summit? That's the question we posed, and we received promising and creative answers from both top thinkers in the field and from new partners."
In 2016, with the Nuclear Security Summit process coming to a close, Carnegie Corporation and MacArthur recognized that the progress started through the Summits remained fragile and much work was left to be done. The two foundations made a commitment—a "gift basket" pledge, in Summit parlance—to invest up to $25 million over two years "to secure nuclear materials and reduce the threat they pose." This funding has gone toward nongovernmental efforts that provide new ideas; create opportunities for governments, industry, and civil society to collaborate; and hold stakeholders accountable.
These 11 grants, combined with each foundation's broader grantmaking to secure nuclear materials, help meet that commitment. In selecting these projects, special emphasis was placed on work that combines technical and foreign policy expertise, brings new voices to the field, fosters collaboration among multiple institutions, and integrates early-career experts.
The two foundations received 83 proposals from university research centers, think tanks, and other organizations from the United States, Europe, South America, South Asia, and Northeast Asia. Each was considered through a two-step process that involved internal and external reviews, including a panel of 15 jurors comprising top experts from government, industry, and academia.
The following projects will receive grants:
Center for Arms Control and Non-Proliferation – $492,000 to support the Fissile Materials Working Group—a worldwide network of civil society organizations—in educating Congressional leaders, media, and the public about nuclear security, including the prevalence of weapons-grade materials.
Center for Strategic and International Studies – $500,000 for work in partnership with the Henry L. Stimson Center to improve nuclear transparency and governance in South Asia.
Fundação Getúlio Vargas – $400,000 for an extensive study of Brazil's nuclear governance that will contribute to the domestic debate on the future of the Brazilian nuclear enterprise.
Harvard University Belfer Center for Science and International Affairs – $200,000 to leverage new political and legal mechanisms in support of stronger nuclear security efforts.
Hudson Institute – $500,000 to expand bipartisan political consensus on U.S. policies to prevent terrorists from acquiring nuclear materials.
Partnership for a Secure America – $200,000 for work in partnership with the Arms Control Association to support engagement with members of Congress and their staff about the importance of safeguarding and eliminating nuclear weapons-usable material.
Princeton University – $414,000 to establish a partnership between the Games for Change and Princeton's Nuclear Futures Laboratory to employ virtual reality for innovation, collaboration, and public awareness on nuclear arms control and materials security.
Stevens Institute of Technology – $500,000 to develop communication strategies to counter the lack of understanding and concern about the nuclear threat, including new techniques intended to engage younger audiences.

Stockholm International Peace Research Institute – $308,000 to assess and respond to the impact of the conflict in Ukraine on nuclear security cooperation in the Black Sea region, long a hotbed of fissile material smuggling.

United Nations Institute for Disarmament Research – $490,000 to apply the latest verification technology to the challenge of providing greater transparency about military fissile materials without increasing security and proliferation risks.
World Institute for Nuclear Security – $400,000 to apply the lessons from the civil aviation sector, which has achieved high, sustainable, and mandatory standards, to the challenge of nuclear security.