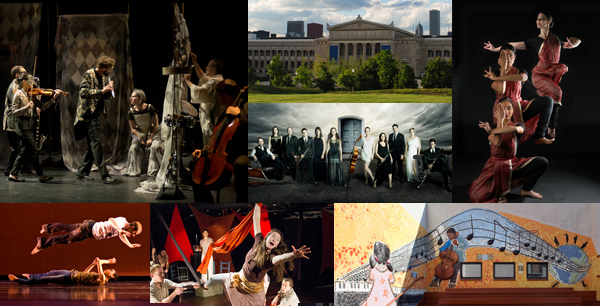 MacArthur announced grants to 12 Chicago arts and culture organizations for artistic exchanges in 11 countries, including Brazil, China, Malaysia, and the Philippines.
"MacArthur created this exchange program to recognize and enhance Chicago's role as a global city," said Julia Stasch, interim president of MacArthur. "The International Connections Fund enables Chicago's vital arts and culture sector to help build that reputation while strengthening its contribution to audiences in Chicago and internationally."
International Connection Fund grants are one component of the Foundation's overall $9 million in annual support to more than 300 arts and culture groups in the Chicago area as an expression of its civic commitment to its headquarters city and the home of its founders.
MacArthur's International Connections Fund was initiated in 2008 – at a time when nonprofits were more concerned about survival than expansion – to enable arts organizations to launch new partnerships and creative projects with cultural organizations in other countries. Since then, the Foundation has made nearly 100 grants of more than $3.5 million for such exchanges..
The following organizations will receive International Connections Fund grants:
Cambodian Association of Illinois – $50,000 for an exchange with Cambodia to document, preserve, and share stories of the Killing Fields through art, oral history, and document preservation.
DanceWorks Chicago – $35,000 for an exchange with Germany. DanceWorks and the German company will create a new collaborative dance piece that they will perform in both countries as well as participate in joint classes, rehearsals, and professional development.
eighth blackbird – $40,000 for a music exchange with Hungary. The companies will create and two new contemporary music pieces, one by a European composer and one by an American composer, and perform them in Budapest and Chicago.
Ensemble Dal Niente – $35,000 for a music exchange with Panama. The Ensemble will work with the emerging new music community in Latin America and will perform a new piece composed by an early career Latin American artist in Panama and Chicago.
Experimental Sound Studio – $10,000 to support an exchange with China in which two sound artists, one from Chicago and one from China, will present work, conduct workshops, and create new sound projects for exhibition.
Field Museum – $45,000 to support an artistic exchange with the Philippines. Drawing on The Field's collection, artists from both countries will create 12 new works of visual art and share them with audiences in both communities.
Fifth House Ensemble –$40,000 for a music exchange with Israel and Germany. Participants will create a suite of newly composed concert works that combine Jewish Sephardic, bluegrass and experimental music; they will perform the work in Germany and Chicago.

Green Star Movement – $50,000 to create and install four murals, three in Brazil's favelas and one on Chicago's South Side.
Kuumba Lynx – $50,000 for an exchange between Chicago and Malaysian youth, who will create a new performance piece that includes dance, spoken word, and other art forms.
Natya Dance Theatre – $50,000 to co-create a theatrical dance piece with an Indonesian dance company that will be performed in Chicago and Indonesia.
Walkabout Theater Company – $35,000 for a theater exchange with the United Kingdom to create and perform two theatrical pieces, share training and administrative practices, and provide public workshops.
Window to the World Communications, Inc./WFMT – $50,000 for an artistic exchange with New Zealand to create a 13-part radio series of documentaries and podcasts that explore the influence indigenous cultures and folk traditions have had on classical and contemporary music.
International Connections Fund grants are limited to Chicago-area nonprofit arts and culture organizations that have received a grant within the last three years from MacArthur or through the MacArthur Funds established at the Richard H. Driehaus Foundation and the Prince Charitable Trusts.
Grantee Profile: Cambodian Association of Illinois, DanceWorks Chicago, Eighth Blackbird Performing Arts Association, Ensemble Dal Niente, Experimental Sound Studio, Field Museum, Fifth House Ensemble, Green Star Movement, Kuumba Lynx, Natya Dance Theatre, WTTW Channel 11Window to the World Communications